University of Nebraska faculty, staff and students, along with community members, are invited to attend the investiture ceremony of President Ted Carter, as he is installed as the eighth president of NU on April 17.
The ceremony will begin at 2:00 p.m. at the University of Nebraska-Lincoln Kimball Recital Hall at 1113 R Street.
There will be a reception immediately following the ceremony at UNL's Sheldon Museum of Art.
What is an Investiture?
An investiture is defined as the "formal ceremony of conferring the authority and symbols of high office." It is held during the new president's first year in office, or at the conclusion of the first year. It is an academic ceremony which has symbolized the pursuit of knowledge since the Middle Ages. Today, universities view investitures as opportunities to welcome a new era and celebrate as a community.
The installation of a new president is a ceremony of dignity with many academic traditions and protocols. It includes an academic procession of delegates from other colleges and universities as well as the institution's own faculty. Marchers wear the colorful academic regalia of their own institution. Interspersed with musical selections, the event includes greetings from members of the university and higher education community and government leaders.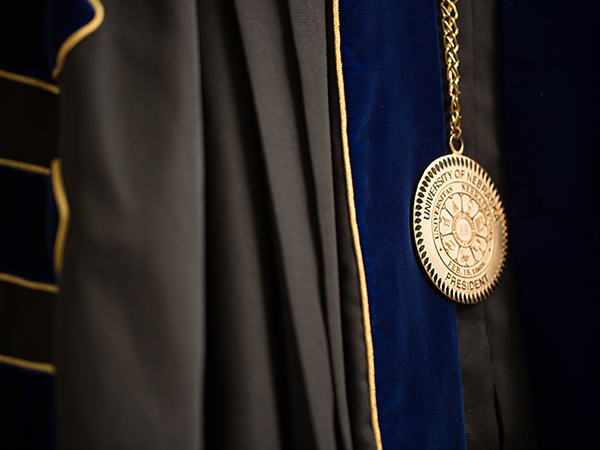 About President Carter
On January 1, 2020, Ted Carter became the eighth president of the University of Nebraska. Carter has spent nearly 40 years leading young Americans and is passionate about the power of education.

He began as a naval flight officer and trained flight officers as a flight instructor at Top Gun, rising to commander, rear admiral and vice admiral before leading the U.S. Naval War College. He most recently served as superintendent of the U.S. Naval Academy, where he oversaw 1,500 faculty and staff and prepared 4,400 students to become officers in the Navy and Marine Corps.

Carter earned a bachelor's degree from the U.S. Naval Academy and received further education from the Naval Nuclear Power School. He and his wife, Lynda, are the parents of a son, Christopher, and daughter, Brittany.