UNO chancellor search paused; Jeffrey Gold, M.D., to lead Omaha campuses
April 27, 2017
Editor's note: A media availability with President Hank Bounds, UNMC Chancellor Jeffrey Gold, M.D., and UNO Chancellor John Christensen will begin at 2:30 p.m. in the Milo Bail Student Center Chancellor's Room on the UNO campus.
University of Nebraska President Hank Bounds said today that he has indefinitely paused the chancellor search at the University of Nebraska at Omaha and appointed UNMC Chancellor Jeffrey P. Gold, M.D., to lead both the UNO and UNMC campuses on an interim basis. The appointment will deepen collaboration between NU's Omaha-based institutions and ensure steady leadership at a time when both are poised to grow their impact in Nebraska and beyond.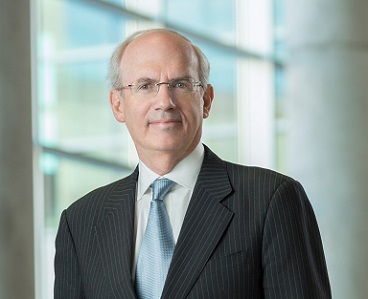 Dr. Gold, the University of Nebraska Medical Center's chancellor since early 2014, will add leadership of UNO to his responsibilities on May 8, pending approval by the Board of Regents at its June meeting. Dr. Gold succeeds current Chancellor John Christensen, who last fall announced his decision to step down after more than a decade of leadership at UNO.
"Jeff Gold is a proven leader who, together with talented faculty, staff and students, has put UNMC on a remarkable trajectory," Bounds said. "He knows Omaha and our state well, he has built deep connections with university stakeholders, and he appreciates the unique – and in many cases complementary – missions of Nebraska's public academic health science center and its metropolitan university.
"We have a chance to think boldly by leveraging the combined strengths of both campuses to grow our research enterprise, expand opportunities for students, and serve our state even more effectively. This appointment makes sense financially and, more importantly, it makes sense for our students, faculty and staff, and Nebraskans. Jeff is the right person, at the right time, to lead UNO into the future."
Dr. Gold said, "Over the past three years I have been impressed and inspired by the work being done at our neighboring University of Nebraska campus. UNO is on the move, and that is a credit to Chancellor Christensen's leadership along with the faculty, staff, students, and community and private sector partners who share in the vision of what it means to be a premier metropolitan university. Our campuses have a long record of collaboration and I am humbled and honored to get to know UNO and its people even better in the months ahead. This is an opportunity to work together to change the world – and we will."
"We have a chance to think boldly by leveraging the combined strengths of both UNO and UNMC to grow our research enterprise, expand opportunities for students, and serve our state even more effectively."
Dr. Hank Bounds
President, Univeristy of Nebraska
Dr. Gold's appointment follows a national search that began in November when Bounds named a 15-member search advisory committee and hosted a series of stakeholder listening sessions to gather input on the qualities the university should seek in the next chancellor.
Bounds praised the work of the committee, co-chaired by Theresa Barron-McKeagney, associate dean of UNO's College of Public Affairs and Community Service, and Michael Yanney, chairman emeritus of The Burlington Capital Group LLC and a leader in Omaha's business and philanthropic communities. Committee members worked with professional search firm Parker Executive Search to develop a position profile and build a rich and diverse pool of candidates.
"Our goal was to find the right person who could pick up where Chancellor Christensen will leave off and continue UNO's momentum," Barron-McKeagney said. "We spent countless hours evaluating candidates. While the position attracted interest from across the country, ultimately none of the candidates was the right mutual fit. We're excited to have Dr. Jeff Gold lead our campus forward."
Bounds said the search was challenged by two primary factors. First, it was conducted in a highly competitive marketplace. At one point during the search there were 100 president and chancellor openings across the country.
Second, Bounds said the state's current fiscal challenges and their impact on the university created hesitation for some candidates.
Bounds said Dr. Gold's interim appointment is a logical and strategic solution given that fiscal realities will necessitate more shared operations between the Omaha campuses. Particularly as the university faces critical budgeting decisions in the coming months, pausing the search for an indefinite period and establishing clear and stable leadership is the right decision for UNO and its faculty, staff and students, Bounds said.
He said he and Dr. Gold will continually evaluate the leadership structure and, in concert with UNO stakeholders, determine at a later date the right time and approach for resuming the chancellor search. Dr. Gold's appointment will be assisted by a broadly representative transition team whose members will be named in the coming weeks. The team will include Chancellor Christensen and other university stakeholders who will help ensure a seamless transition of leadership.
Dr. Gold's leadership of both UNO and UNMC will build on collaborative efforts already underway that are growing Nebraska's economy and quality of life. For example, the two campuses have joined on a new institute, called UNeTech, that will support start-up companies grown from university research. The campuses also partner on the Urban Health Opportunities Program, through which students receive scholarship support at UNO and then, upon successful completion of the program, are guaranteed admission to health professions programs at UNMC.
UNO and UNMC also work collaboratively in biomechanics research, an area where UNO is a national leader; in the university-wide National Strategic Research Institute, through which faculty conduct research focused on defense and national security; the Nebraska Applied Research Institute, which contracts with industry and government to address financial, security or life-threatening risks that businesses and public agencies face; and a number of other efforts. The campuses' global engagement efforts are also under unified leadership.
Prior to joining UNMC, Dr. Gold served as chancellor of the University of Toledo's academic and clinical health sciences. He previously served at the Albert Einstein College of Medicine-Montefiore Medical System and the Weill Cornell College of Medicine-New York Presbyterian Medical Center. Dr. Gold is a graduate of the Cornell University College of Engineering and the Weill Cornell College of Medicine. He completed residency and fellowship training in cardiac surgery at New York Presbyterian Hospital, Memorial Sloan Kettering Cancer Center, Brigham and Women's Hospital and Children's Hospital of Boston. His full biography is available here.
Media Contact:
Melissa Lee
Director of Communications,
University of Nebraska