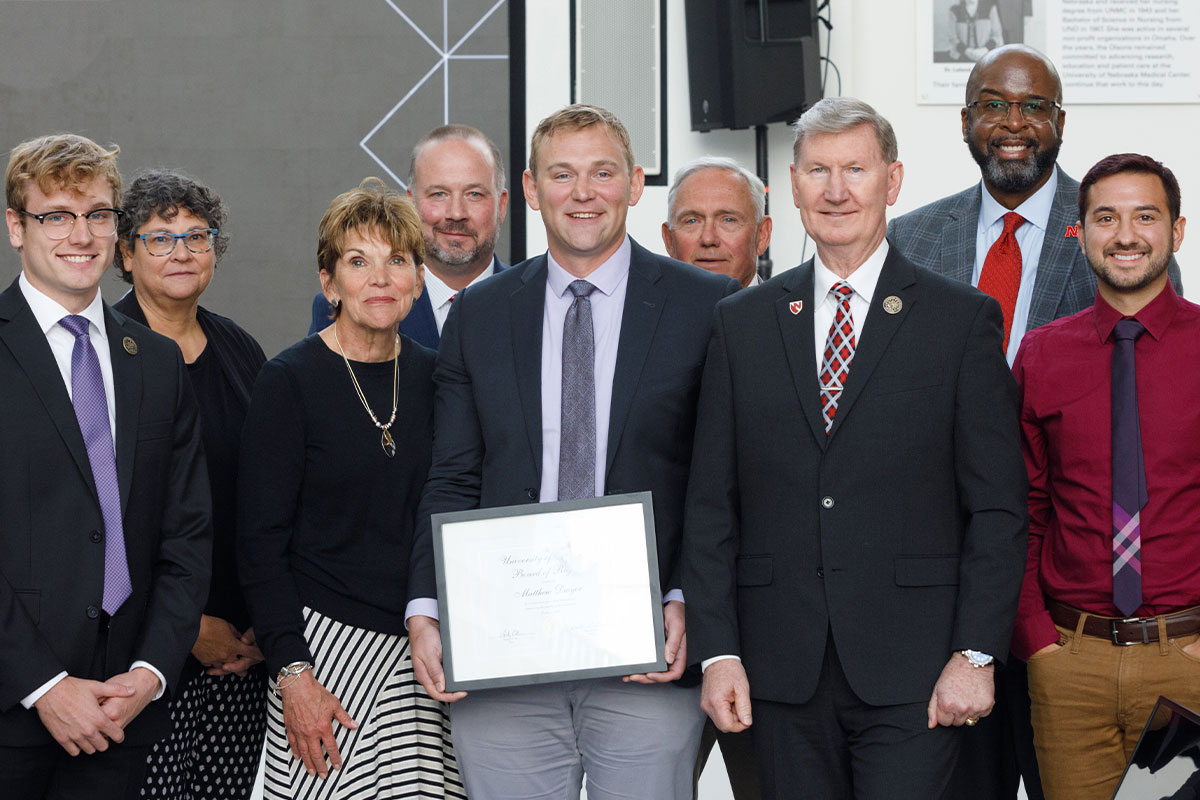 The Board of Regents is pleased to present a KUDOS award to Matthew Dwyer, Senior Proposal Development Coordinator in the Office of Research and Economic Development at UNL.
Matthew joined the Office of Proposal Development in 2013, helping advance the research mission by providing exceptional support for proposal development and contributing strategic expertise to increase institutional research capacity and competitiveness. Over the past decade, he has partnered with UNL proposers to secure $84 million in external funding by co-authoring, reviewing, and refining the narratives of individual investigators and large-scale grant proposals.
The value of his contributions is noted by one faculty member as , "instrumental in helping put together and win a large, complex grant involving nine institutions across the country." Another faculty colleague noted that his "ability to organize, edit, and synthesize text was a tremendous asset to the group and was probably the difference between achieving a competitive package and one that would not be considered."
Matthew is a vital contributor to the Research Development Fellows Program, a year-long program designed to provide early career faculty with the information, resources and approaches necessary to position themselves for success in securing external funding. Faculty members who complete the program have about 2.5 times more externally funded projects active at any given time than their peers and the average size of those awards is double. The retention rate for the Fellows at UNL is 12% higher than other faculty.
Matthew mentors and aids UNL faculty selected for the National Science Foundation Early Career Development Program, a highly prestigious recognition of individuals with the potential to serve as academic role models in research and education. CAREER awards to UNL faculty have tripled since 2017, and most awards occur the first time a faculty member submits their CAREER proposal.
Matthew and his colleagues earned a 2023 Innovation Award from the National Organization of Research Development Professionals, given to individuals, groups, or teams who leverage unique skills or resources to kick-start innovation in research development in ways that generate evidence of promise or demonstrable results.
Through dedicated customer service, extraordinary work ethic, and a positive attitude, Matthew Dwyer continues to support and advance the research mission of the University of Nebraska-Lincoln.
Joining Matthew today are his parents, Julie and Mark Dwyer, his partner, Austin Christensen, Assistant Vice Chancellor for Research Nathan Meier, and Tisha Mullen, Director of Proposal Development.