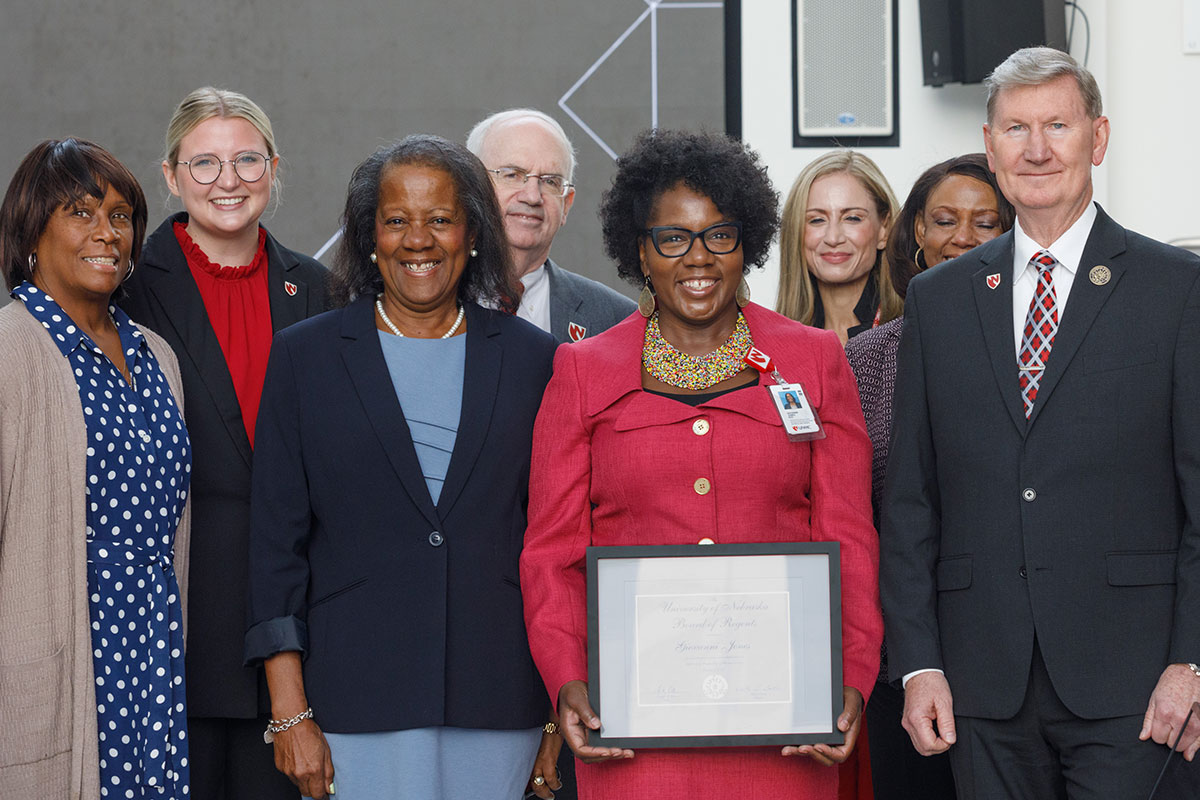 On behalf of the Board of Regents, I am pleased to present a KUDOS Award to Giovanni Jones, manager of Employee Training and Development within UNMC Human Resources.
Giovanni's nominator called her a "true shining star" and applauded her energy, commitment and work, which consistently exceeds expectations. "Giovanni has elevated every program she's been tasked to take over or create and does so while improving the processes and procedures for greater efficiency and effectiveness."
At UNMC, Giovanni is responsible for HR employee training and development, a role she's held since 2017. She single-handedly plans, develops, coordinates, and evaluates the employee training and development program, called "Re-Imagining U." This program ensures that each year, UNMC employees are offered two semesters of professional development courses.
During the 2020 pandemic, Giovanni pivoted from in-person training to virtual training and collaborated with UNO's Human Resources to jointly offer 39 virtual courses - 20 of which she coordinated.
Beyond employee training, Giovanni provides information and guidance to the campus mentoring program; and she helps deliver programming for Black History Month and Administrative Professionals Day. She plans, coordinates, and facilitates UNMC's annual CultureFest event, in addition to serving on the U-Wide Diversity Officers Collaborative.
Today, Giovanni is joined by her aunt, Diane Watson Hodges; her cousin, Linda Washington; Associate Director in Human Resources, Linda Cunningham and Assistant Vice Chancellor in Human Resources, Sara Gloden-Carlson. Please join me in thanking Giovanni for her work and commitment to developing outstanding training programs for UNMC staff and faculty.