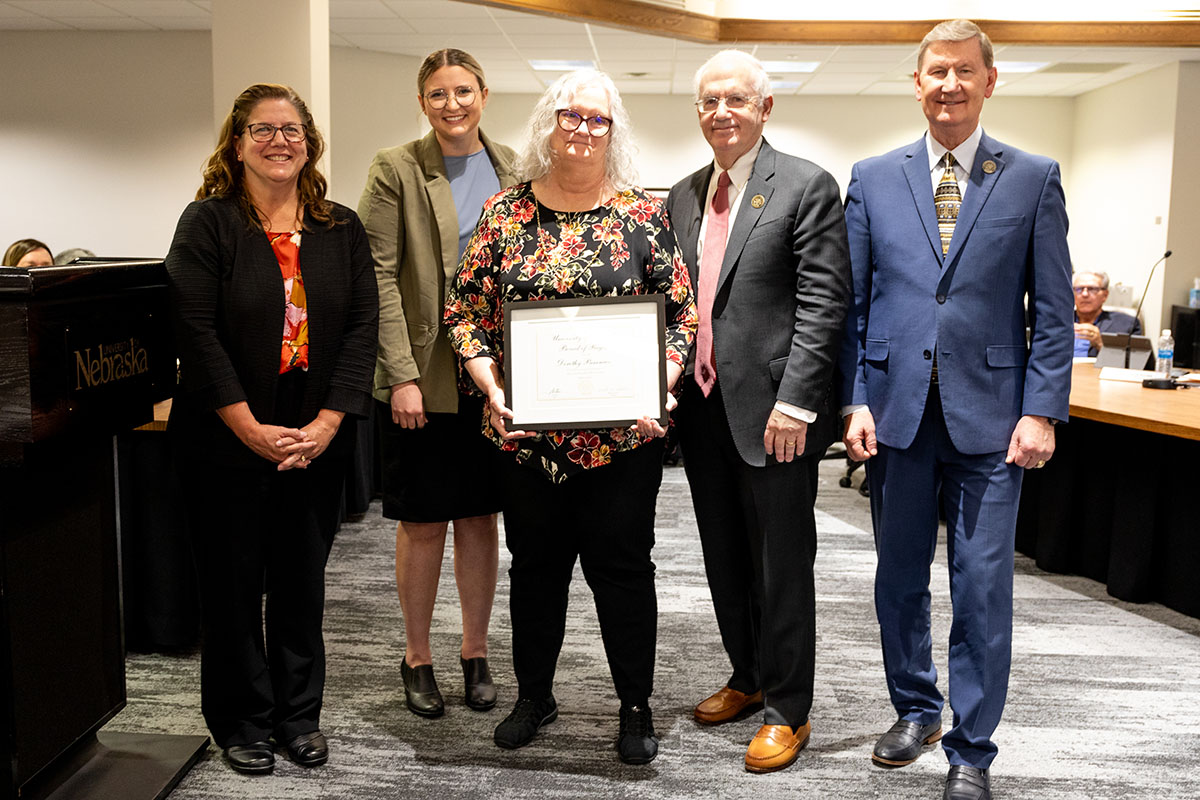 Pictured: Susan Kraft Mann, supervisor; Regent Schultis; Dorothy Panowicz, recipient; Chancellor Gold and President Carter.


On behalf of the Board of Regents, I am pleased to present a KUDOS Award to Dorothy Panowicz, Budget and Fiscal Associate in the UNMC Office of Budget and Fiscal Analysis.
Dorothy continually looks for ways to improve processes and procedures at UNMC where she has worked the past 34 years. She was a key player in the development of the university's Budget Prep system and is one of few employees, with access to the system that maintains UNMC's policies and procedures.
Dorothy prides herself on producing UNMC's annual Planning Information and Quality Indicators report. This extensive and essential resource, having more than 100 pages, is full of facts, figures, and campus accomplishments from the prior year.
Dorothy's nominator praised her work on the reports, saying she single-handedly gathers, formats, edits, proofs, and finalizes all the information and data submitted by the various subject experts. In addition, she researches and crafts specific sections herself.
Dorothy is a regular team member of the various budget, legislative and policies and procedure groups, while working with individuals from every college and unit on campus. She has worked with many from UNMC's sister campuses, the Office of the President, and the State of Nebraska, as well.
A notable fact about Dorothy – she truly embodies what it means to be a life-long learner, and, according to her nominator, has taken a college level course each of the past 20 years they have worked together.
Today, Dorothy is joined by Susan Kraft Mann, Associate Vice Chancellor for Business and Finance.