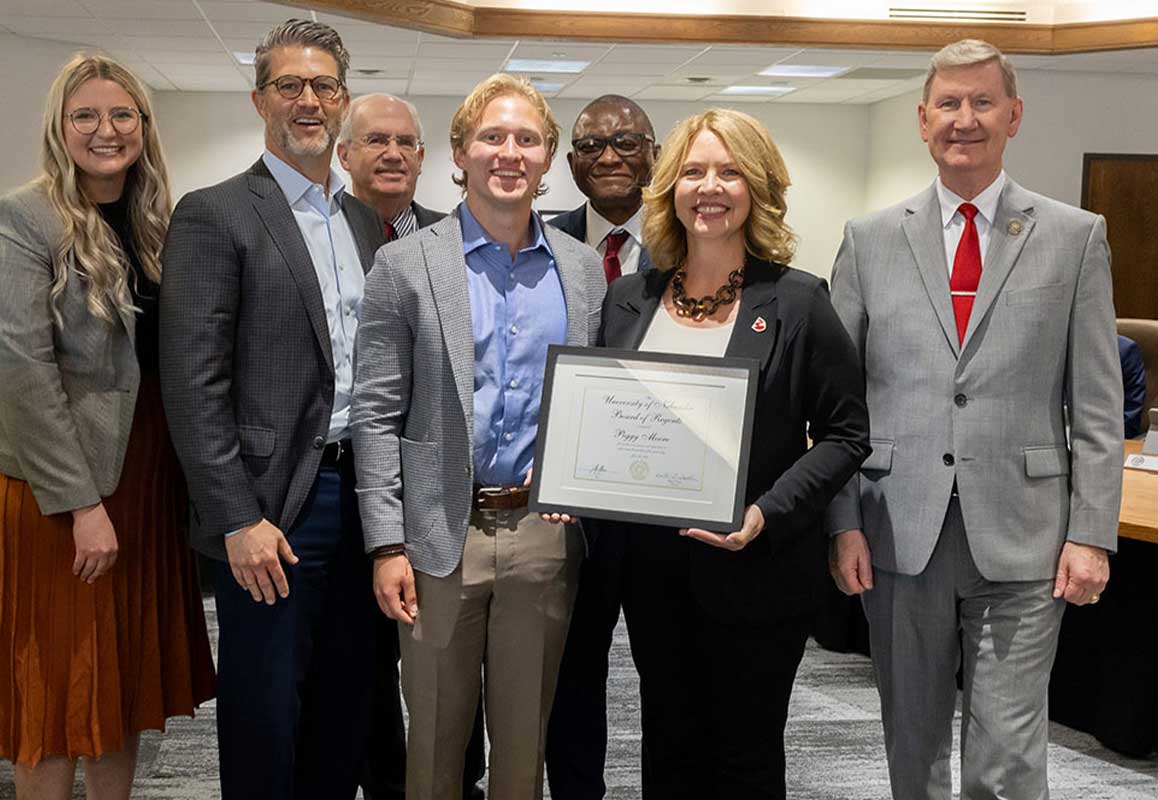 On behalf of the Board of Regents, I am pleased to present a KUDOS Award to Peggy Moore, director, and instructional designer in UNMC's Office of Interactive E-Learning.
For 10 years, Peggy has been instrumental in providing technology and instructional design support to UNMC faculty and students while developing a vision for how to teach using distance technology. The seven-member E-Learning team has created hundreds of interactive digital learning materials for faculty, staff and students at UNMC and beyond.
Focused on quality and exceptional results, Peggy helped engineer the Nebraska E-Learning Scorecard, an evaluation tool used to assess the quality of an e-learning module and guide the development of new modules.
In 2021, Peggy and the Office of E-Learning launched uBEATS, a collaborative effort between E-Learning, High School Alliance, UNO and UNMC to create a free online science and health science resource for students in grades six- through 12. The uBEATS program includes 70-plus e-modules and has been used by more than 12,000 students across 22 states. Under Peggy's leadership, the program secured almost $1 million in external funding to support module development and provide a sustainable framework for growth.
More recently, Peggy was tasked with creating space for non-credit and micro-credentialing. She has jumped in headfirst - creating a solid plan to promote, use and make the NU Advance system and program a sustainable venture for UNMC.
Peggy is a highly respected leader, admired for her empathy, warmth and transparency. Said one nominator: "I look for projects that include Peggy Moore as a team member." Today, Peggy is joined by her husband, Scott Moore; her son, Cooper Moore and Dr. H. Dele Davies, supervisor and UNMC Sr. Vice Chancellor Academic Affairs.
Please join me in thanking Peggy for her outstanding leadership, vision, and commitment to educational excellence.