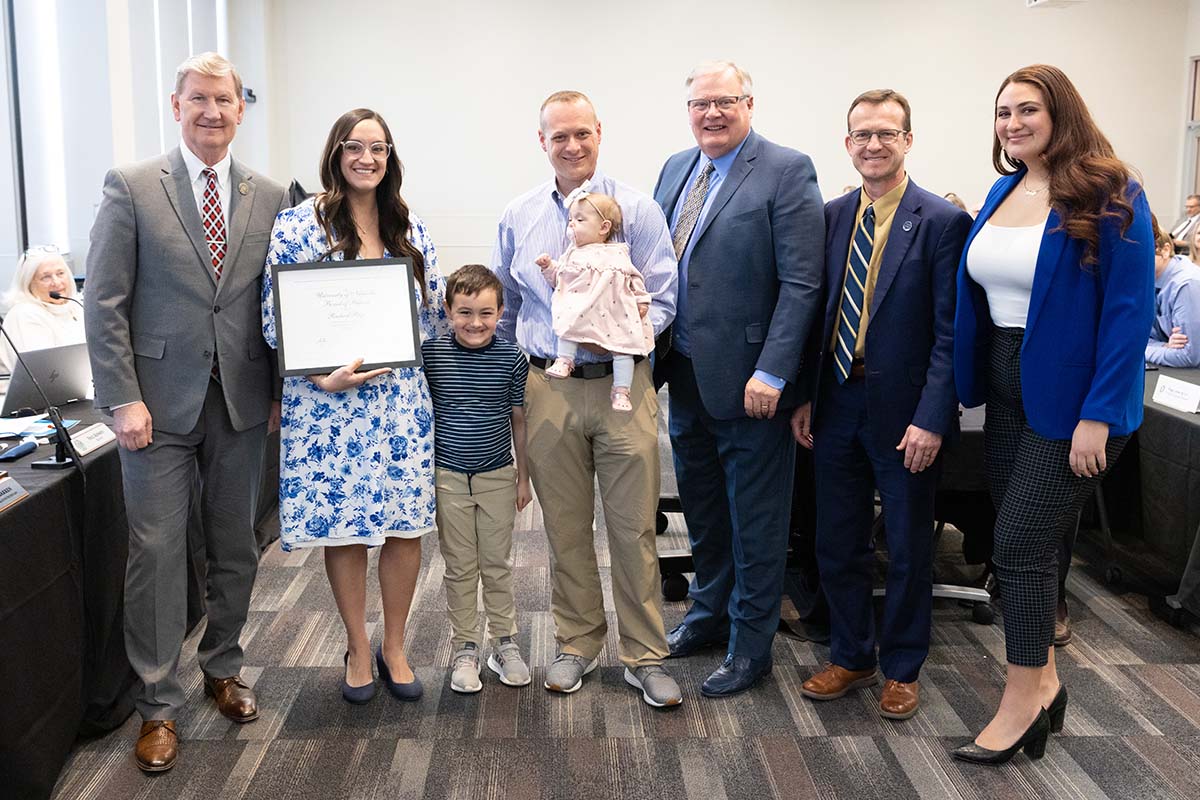 The Nebraska Board of Regents is proud to present a KUDOS award to Rachael Page, Associate Athletic Director for Compliance and Student Services and Senior Women's Administrator at UNK.
A native of St. Joseph, Missouri, and a former member of the Loper Swim Team, Rachael is a three-time graduate of UNK. She earned her bachelor's in sports management and sports communication in 2010, her master's in sports management in 2012; and her master's in counseling and educational psychology in 2019. Rachael previously served as Assistant Athletic Director and was promoted to her current role in 2021.
Athletic Director Marc Bauer describes Rachael as "goal-oriented and passionate," as a "difference maker," and as a "nurturing, generous, and loving leader who exercises sound judgment in essential matters, dares to assume responsibility and serve others, while maintaining her integrity consistently."
Her job responsibilities include oversight of all athletic compliance issues including rules, regulations, new legislation, waivers, reports, representation, and interpretation. Rachael has oversight of all student services, such as student-athlete adjustment, academic eligibility, academic and career planning and programming. She also oversees and advises the Student Athlete Advisory Committee; assists with coordination of community service projects and outreach; and represents Athletics on campus committees.
I always tell our student-athletes, "I am here to help you," says Rachael, "If I can't help you myself, I will find someone on campus who can." And she does, without fail. In her spare time (that's a thing?) Rachael enjoys being outdoors, spending time with her husband Michael, son Owen, and daughter Brighton. They are with her today, as is AD Bauer.
Please join me in recognizing Rachel Page for outstanding service to UNK Athletics, student-athletes, and to the University of Nebraska at Kearney overall. Go Lopers!