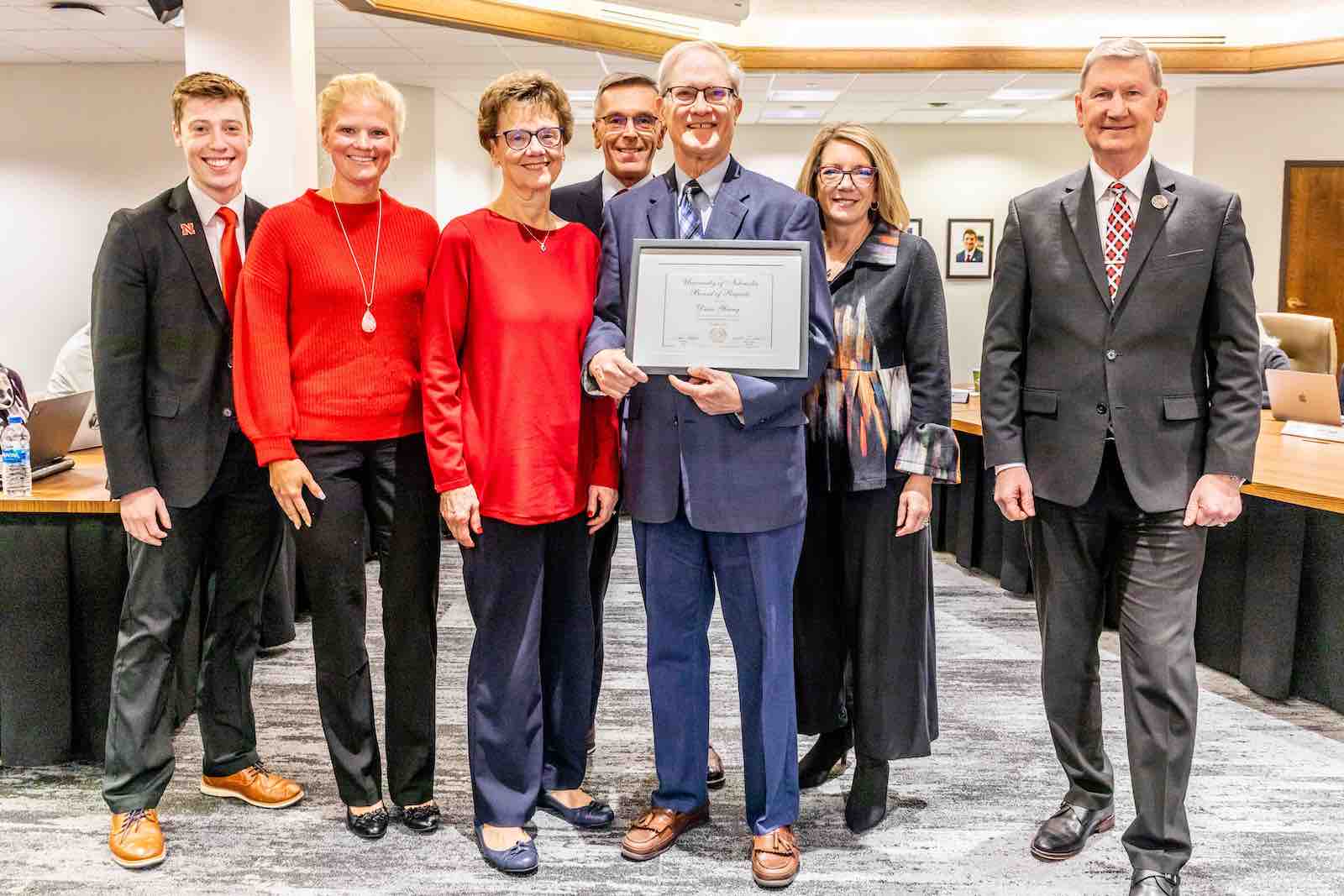 Pictured: Student Regent Jacob Drake, Julie McDaniel, Linda Young, Chancellor Ronnie Green, Dean Young, Leslie Levy (Director, International Quilt Museum), President Ted Carter

The Board of Regents is pleased to present a KUDOS award to Dean Young, Operations Manager for the International Quilt Museum at the University of Nebraska-Lincoln.
Dean's work for the International Quilt Museum is world-class. He regularly welcomes and hosts guests from around the state, nation and, indeed, the world to the museum and presents the very best of our university and state. He exemplifies the motto that "every person and every interaction matters" and always treats individuals with respect and kindness.
A colleague noted, "Dean is the best supervisor, leader, and co-worker ever! His skills, kindness and work ethic are praised by all – volunteers, colleagues, and Quilt Museum guests."
Dean Young is the gold standard: one of those rare, conscientious employees who is happy to take on any responsibility, challenge, or task regardless of what else is on his plate. Every day Dean comes to work with a wonderful can-do attitude and easy manner. Much of the museum's success is due to his consummate professionalism, eternally positive outlook, and boundless desire to serve important stakeholders.
Joining Dean today is his wife, Linda Young; daughter, Julie McDaniel; and Leslie Levy, Director of the International Quilt Museum.
Please join me in thanking Dean Young for his dedication to the University of Nebraska-Lincoln.