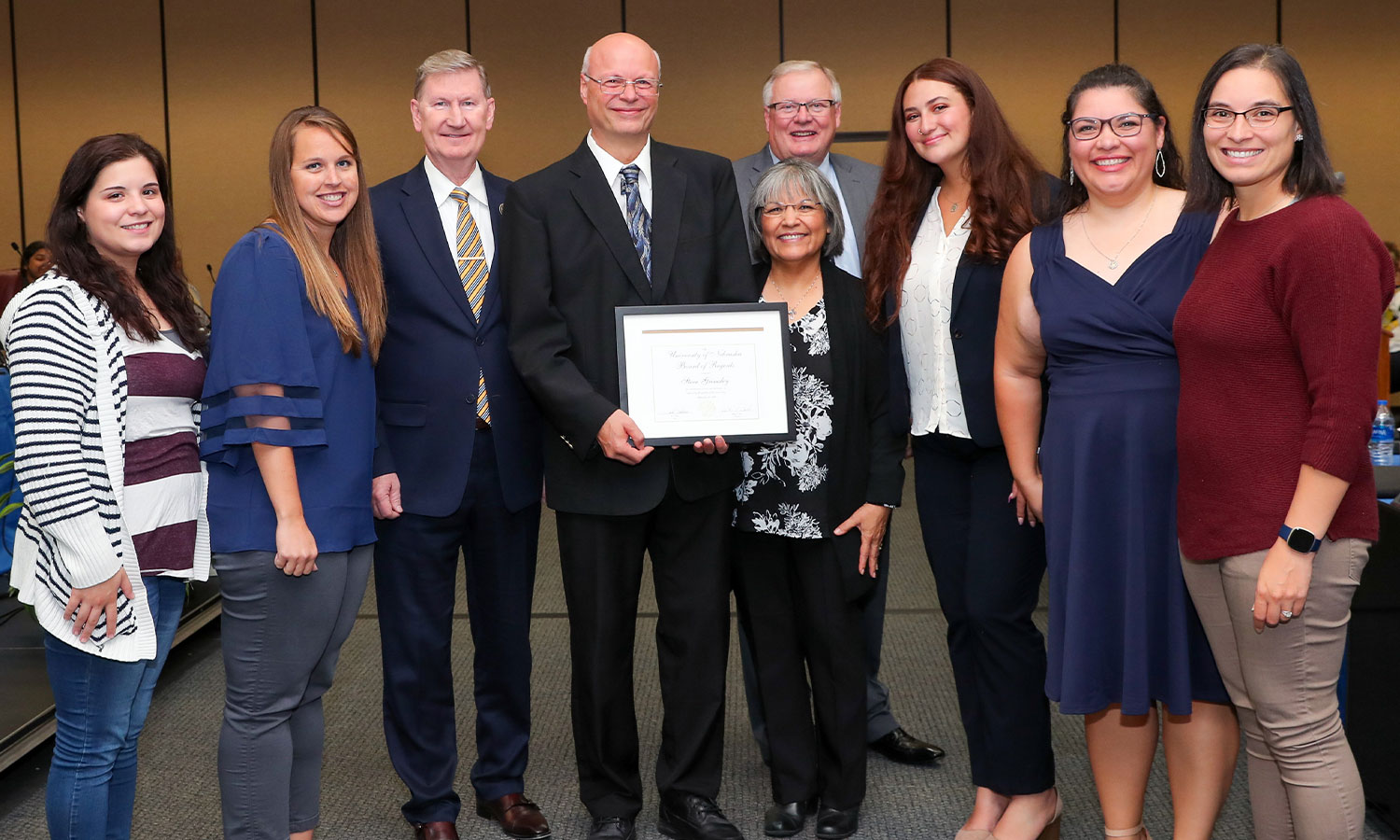 The Board of Regents is pleased to recognize Steven Grimsley, Office Associate in UNK's Division of Facilities Management and Planning.
Originally from Perry, Iowa, and holding an Associate Degree in Accounting from Nebraska College of Business, Steve became part of the UNK community less than two years ago, in December 2020 – bringing with him 35 years in retail management with companies such as Walmart, Office Depot, and Hobby Lobby.
His impact on colleagues in his division and throughout campus has been highly positive and his supervisor, Business Manager Megan Telecky says his list of responsibilities "doesn't do justice to what he does on a day-to-day basis. Steve always has a smile on his face," she continues, "and is willing to help anyone in any way that he can. He has a positive attitude in all situations and continually goes above and beyond."
That list of responsibilities includes operating the Facilities Service Desk and providing customer service to departments, students, and sometimes to parents; processing work requests into work orders; data maintenance; scheduling van rentals and maintaining mileage logs for Facilities vehicles; performing campus quality assurance checks; assisting managers, supervisors, and techs as needed; and scheduling and monitoring staff safety training.
Steve is also a member of the UNK Sustainability Committee. Restructuring the Facilities Help Desk, updating building maps, and setting up QR codes on specific Facilities equipment are among the accomplishments of which he is most proud.
Colleagues also credit his work with turn-around management schedules;his screening of more than 31,000 work requests in his two years at UNK; and now assisting with a transition to a Preventative Maintenance schedule to reduce Reactive Maintenance.
With Steve today are his wife of 39 years, Judy; their three daughters and sons-in-law: Amanda and Mark, Alyssa and Eric, and Jenna and Johnnathan, and their nine grandchildren.
"God has prepared me for this outstanding position," Steve says. "This is a job that I enjoy coming to and learning from each day." – Our congratulations to Steven Grimsley. His outstanding performance, and his commitment to his work and to those he serves have earned him this recognition.