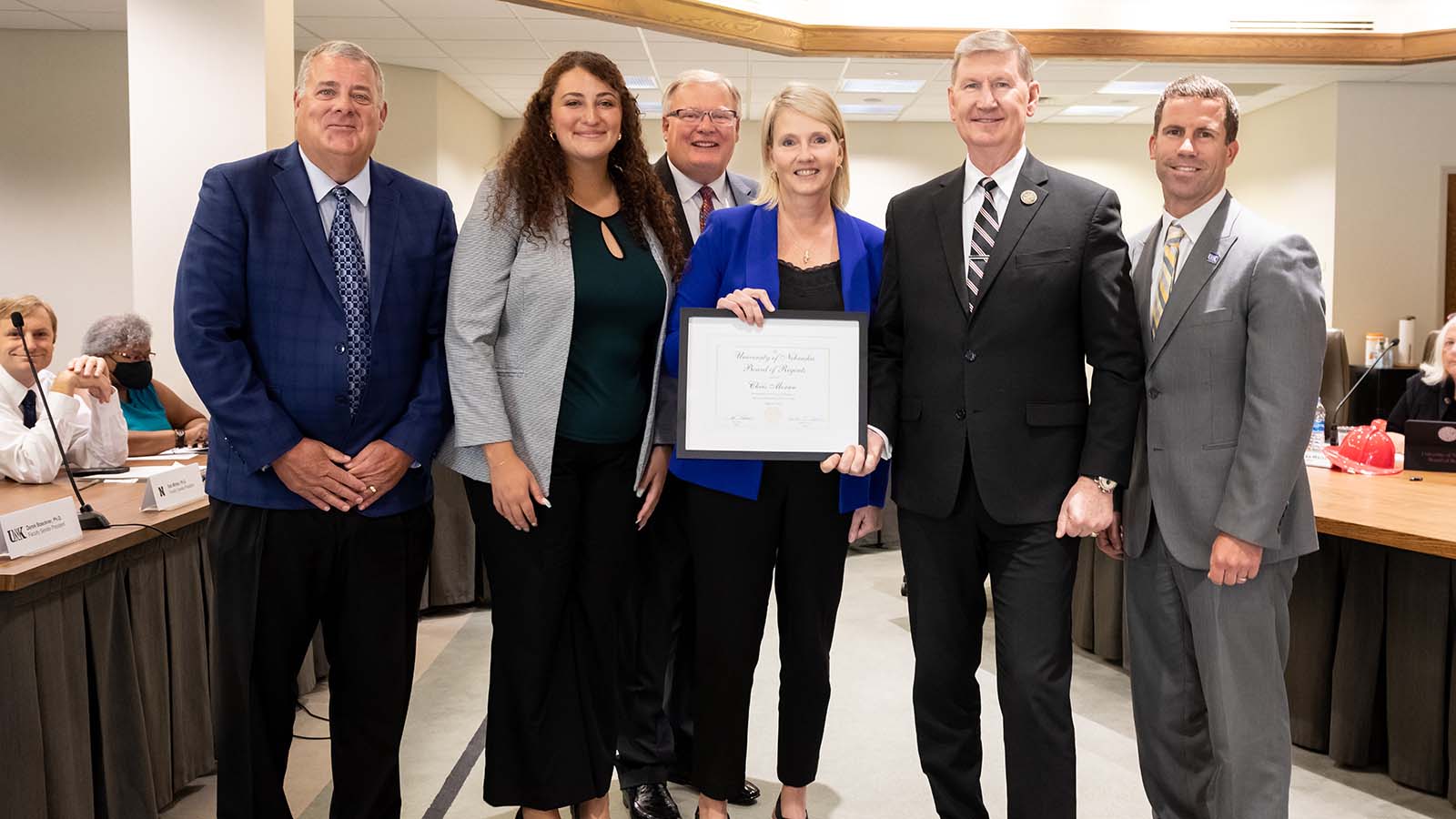 On behalf of the Board of Regents, I am pleased to recognize Chris Moran, Budget Officer at the University of Nebraska at Kearney. Born and raised in Ord, Nebraska, Chris graduated from Ord Public Schools and then Nebraska Wesleyan University. She is a Certified Public Accountant and a member of the Nebraska Society of Public Accountants and the American Institute of Certified Public Accountants.
For the past eight years, Chris served as UNK's Senior Financial Accountant, and then Accounting Manager. Learning quickly, thinking strategically, and adapting to change; along with her prior roles in management while working in the public and private sectors, all combined to make her an impactful member of UNK's budget team.
In 2019 she transitioned to Budget Director; a position held for 30 years by Jean Mattson. "Chris did not hesitate to exercise her Nebraska work ethic accepting the challenge," says Vice Chancellor for Business and Finance, Jon Watts. "She was able to simultaneously learn the ins and outs of budgeting, while helping shape the budget to support UNK's Strategic Plan." Colleagues across campus admire and appreciate Chris for her grace, skill, and confidence in assuming the important, often difficult, position of Budget Officer. Her knowledge and demeanor quell the anxiety that often comes with budget questions.
At UNK, Chris has been a member of the Equity, Access, and Diversity Advisory Committee and the Staff Senate. She is a graduate of Leadership UNK and of the Maximizing Organizational Resources Leadership Program.
Celebrating with us today is Chris' husband, Jim Moran, along with Vice Chancellor Jon Watts. Our congratulations to Chris Moran for her impressive and highly appreciated work benefitting UNK and the entire University of Nebraska community.