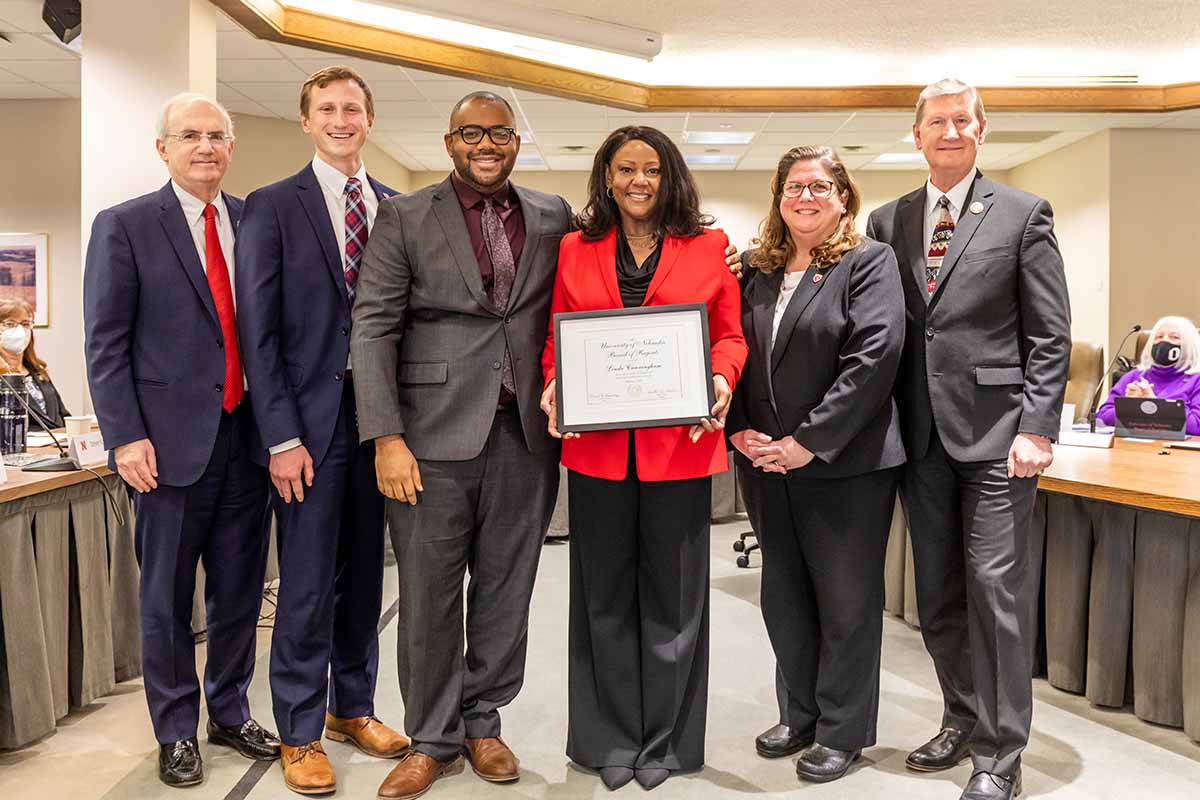 On behalf of the Board of Regents, I am pleased to present a KUDOS Award to Linda Cunningham, associate director of Human Resources at the University of Nebraska Medical Center.
In this role, Linda leads UNMC's employee relations, employee training and development, benefits, and child development center teams. During the pandemic, Linda has taken on challenges and difficult situations with professionalism, determination and compassion. She helped create UNMC's COVID-19 vaccination policy and helped manage the COVID-19 vaccination exemption process. She worked diligently with the Health Security Office, Academic Affairs, and college administrators to resolve potential issues, communicate next steps, and manage the compliance process. She spent hours both explaining and educating individuals on UNMC's policies regarding working from home, mask wearing, and vaccination policies. Said one nominator: Her fortitude has been inspirational.
Another nominator acknowledged Linda's ability to hear a myriad of concerns, noting: "It's a lot to deal with, and somehow, she does it with positivity, discernment for what's needed, and abounding love. She is selfless in serving others so that we may show up daily as our best selves."
During her more than 20 years on campus, Linda has spearheaded Culture Fest, which celebrates the diversity of UNMC and its employees; initiated training and programming around employee feedback; and launched a comprehensive, web-based platform that allows users to acknowledge, reward and recognize their colleagues. Said a nominator: "Linda has the innate ability to consistently turn ideas into action, put creativity to work and develop strategies for innovation."
Today, Linda is accompanied by her son, Christopher Cunningham, and Susan Kraft-Mann, Interim Vice Chancellor for Business & Finance. Please join me in thanking Linda for her innovation, dedication, and commitment to helping UNMC employees succeed and thrive in the workplace.