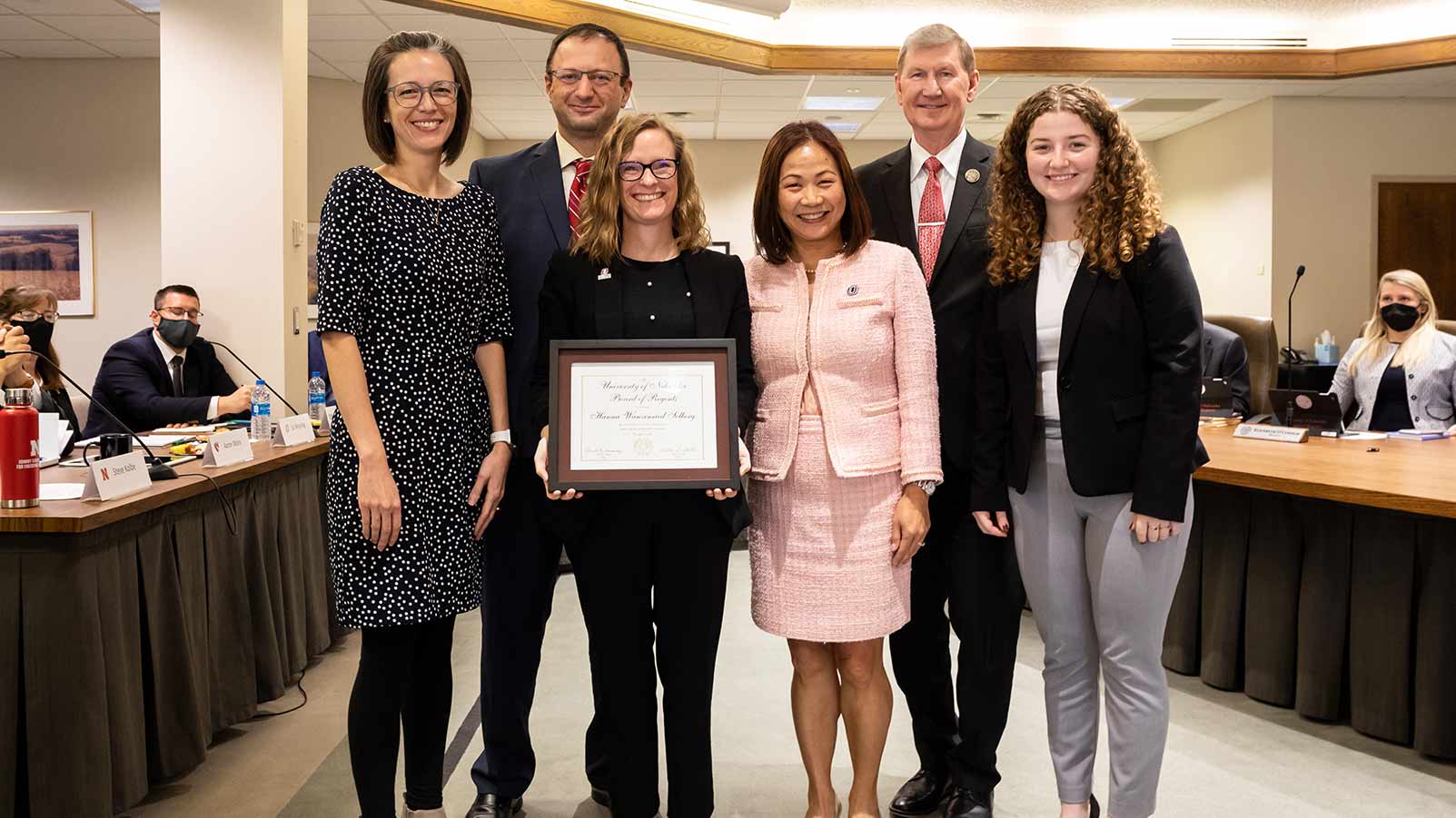 The Board of Regents is proud to present a KUDOS Award to Hanna Wanzenried Solberg, an advisor for the College of Education, Health, and Human Sciences at UNO. Through her cooperative spirit and inclusivity, Hanna has gone above and beyond for Maverick students during this unique and challenging time.
Hanna has demonstrated great care for her nearly 300 advisees, ensuring that her students are on a timely path to graduation. She is intentional about making decisions that affect her advisees, and if concerns are raised, she directs students to the appropriate campus resources. She also works with the highest professional and ethical standards, stepping in to support students and colleagues alike, when needed.
Hanna's nominator describes her as someone who cares deeply about those in her community. She is an active representative on Staff Advisory Council and co-leads many initiatives. As a member of the SAC Professional Development Committee, she was a key player in the creation and continuation of the SAC Professional Development Fund, which has helped many staff members gain additional skills that directly enhance their employment at UNO. The fund has also positively contributed to the culture of discovery and knowledge pursuits in staff development on campus.
Even with all her other responsibilities, Hanna regularly provides updates to her college about opportunities and resources afforded by the Staff Advisory Council and serves as the College's representative for UNO's Academic Recovery Program. "Hanna is a Maverick," her nominator remarks. "She is committed to growing as a professional, and like a true Maverick, she is creating an environment for others to grow with her."
Joining Hanna today is her husband, Tom Solberg, and her supervisor, Huai-Mei Furman.