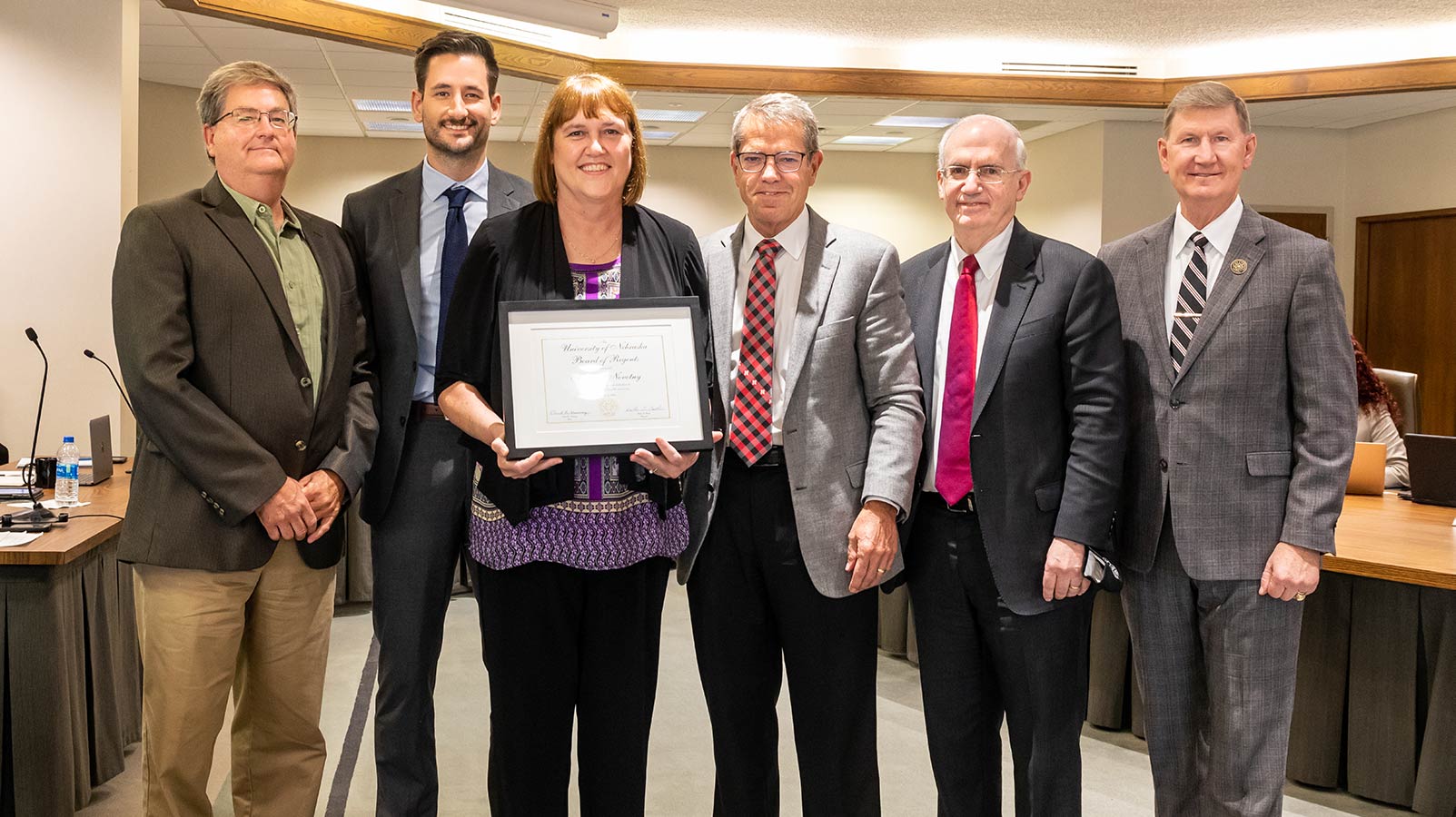 On behalf of the Board of Regents, I am pleased to present a KUDOS Award to Marlene Novotny, Executive Assistant to Chancellor Jeff Gold at the University of Nebraska Medical Center.
Most of us can only imagine how difficult it is to manage the schedule of a university chancellor… let alone one leading two campuses and chairing a health system. Marlene has fulfilled this role admirably for the past 5+ years. If you ask her how she juggles the impossibly long list of meetings, phone calls, constituent contacts, and other requests of the chancellor's time, she'll simply say with a smile, "it's quite a puzzle." It is indeed—and Marlene deserves credit for making sure all the pieces come together so that the chancellor is where he needs to be, when he needs to be there.
Marlene has earned a reputation for her professionalism and her meticulous attention to detail. She never lets a request to the chancellor slip. And has a deep understanding of the public nature of the roles and challenges of colleagues to uphold high standards of decorum when representing the chancellor and UNMC. She exercises daily judgment in helping to maximize the chancellor's time while also making sure his calendar doesn't become overbooked.
Said her nominator: "Marlene is able to see the big picture, which is helpful in her ability to prioritize work in the Chancellor's Office. Her operational style allows her to do the right thing to ensure things get done." A colleague noted, "She works tirelessly to ensure Dr. Gold and his support team operate with a high degree of precision to meet the daily demands of the office and medical center," another colleague said.
In addition, colleagues see Marlene as a problem solver who is unfazed by the many demands of her job. "She is positive, respectful, helpful, practical, trustworthy, reasonable, reliable, dedicated to her responsibilities and down to earth … It is a pleasure to work with Marlene."
Joining Marlene today are her husband, Tom Novotny, and her sister Rogene Wheeldon.
Please join me in thanking Marlene for her invaluable service supporting not only Chancellor Gold but the entire UNMC community as it works to create a healthier future for Nebraska one the world.