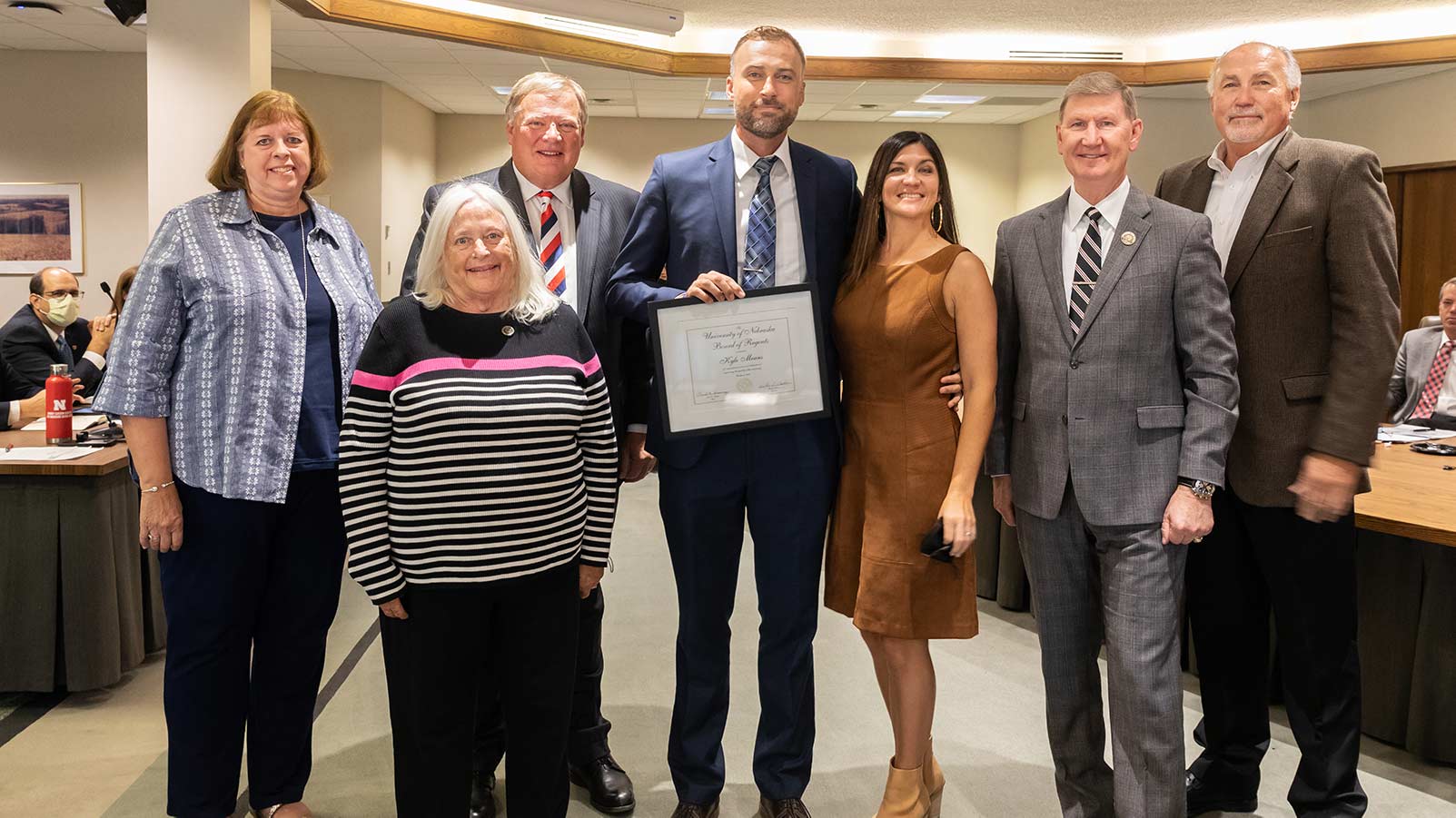 On behalf of the Board of Regents, it is my pleasure to introduce Kyle Means. His hometown is Lincoln, he holds a Bachelor of Journalism from UNL, a Master of Arts in Education from UNK, and, since 2014, he has performed exceptionally as UNK's Director of Marketing. For his remarkable skills, work ethic and attitude, and his tremendous contributions to the University community, Kyle Means is highly deserving of the Board of Regents KUDOS Award.
Kyle is a thoughtful and energetic leader who manages nearly all marketing, advertising and promotional items, especially undergraduate enrollment marketing, for the division of Enrollment Management and Marketing. He works with a talented team to enhance the perception of the UNK brand and image, an example being the current "Be Blue. Be Gold. Be Bold" marketing campaign. He oversees UNK's in-house print shop as well as a creative team of graphic design, enrollment communication, and video production staff. Recent accomplishments include the enrollment results of his team's out-of-state marketing efforts this past year. Their wide-reaching campaign for the newly created "New Nebraskan Scholarship" played an important role in increasing out-of-state first-time freshman enrollment by 70%.
Additionally, he assisted in creating a video production program known as LoperVision to enhance livestream production of athletics events; helped launch marketing campaigns for Fraternity/Sorority Life, Discovery Hall, Nebraska Promise, and Health Science Explorers; and he spearheaded multiple COVID-19 communications, started a UNK Roku Channel, and launched "The Loper Experience" podcast. Finally, he is excited to be a co-chair of the First-Generation Leadership Team. As a first-generation student himself, it is an effort that is near and dear to him.
With Kyle today is his wife Leslie Means, and his parents Roger and Janet Means.