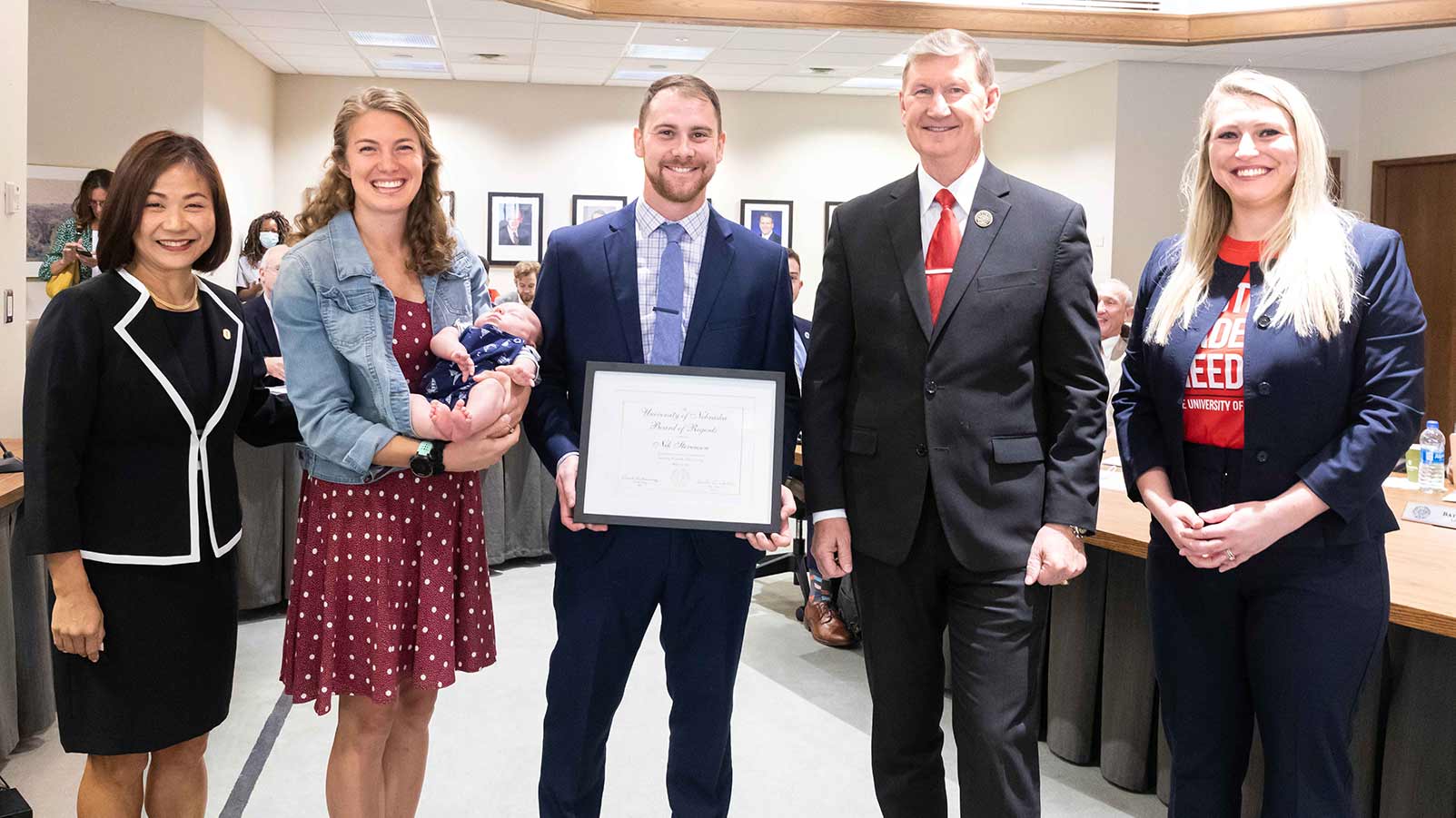 The Nebraska Board of Regents is pleased to present a KUDOS Award to Nik Stevenson, research technician and program coordinator for the Nebraska- STEM 4U project for the University of Nebraska STEM TRAIL Center.
Going above and beyond the responsibilities of his role, Stevenson has provided significant, impactful leadership for a vital academic center providing STEM education and training for educators and future STEM leaders.
One example of Stevenson's work, occurred as he helped recruit a highly diverse group of scholarship applicants funded by a federal grant. Stevenson's relationship-building and individual touch points led to more than 50 percent of scholarship recipients being female and ethnically diverse as well, including representatives from Native American, Hispanic, Latino, and African American communities.
Additionally, Stevenson has served as a leader in enhancing UNO's Nebraska-STEM 4 U out-of-school STEM education program. Not only has the pool of participants and educators expanded to be more diverse and representative, but his trained student leaders are now available to help keep the program sustainable into the future.
Stevenson is a prolific researcher himself supporting the STEM TRAIL Center's mission of STEM education and literacy. His efforts include presentations at a recent National STEM Education Center conference; the Nebraska Get Connected Afterschool Conference and providing the keynote address for the launch of the STEM TRAIL Center in 2019. He also has worked with faculty and students across the University of Nebraska system to publish research articles and has been a critical team member helping to secure more than $3 million in grant funding from the NSF, NIH, and other organizations.
In the interest of enhancing and supporting diverse voices, Stevenson has also recently taken upon himself the launching of a reading club among STEM TRAIL Center staff to better understand gender equity and advancement. Additionally, he is part of the inaugural Equity and Inclusion Certificate being offered at UNO.
Nik's nominator states, "His tireless work ethic and willingness to dive in and improve the environment for all make him a joy to work with."
Joining Nik today are his wife, Logan, and his seven-week old son, Tucker.
Please join me in thanking Nik for his dedication to the University of Nebraska-Omaha.