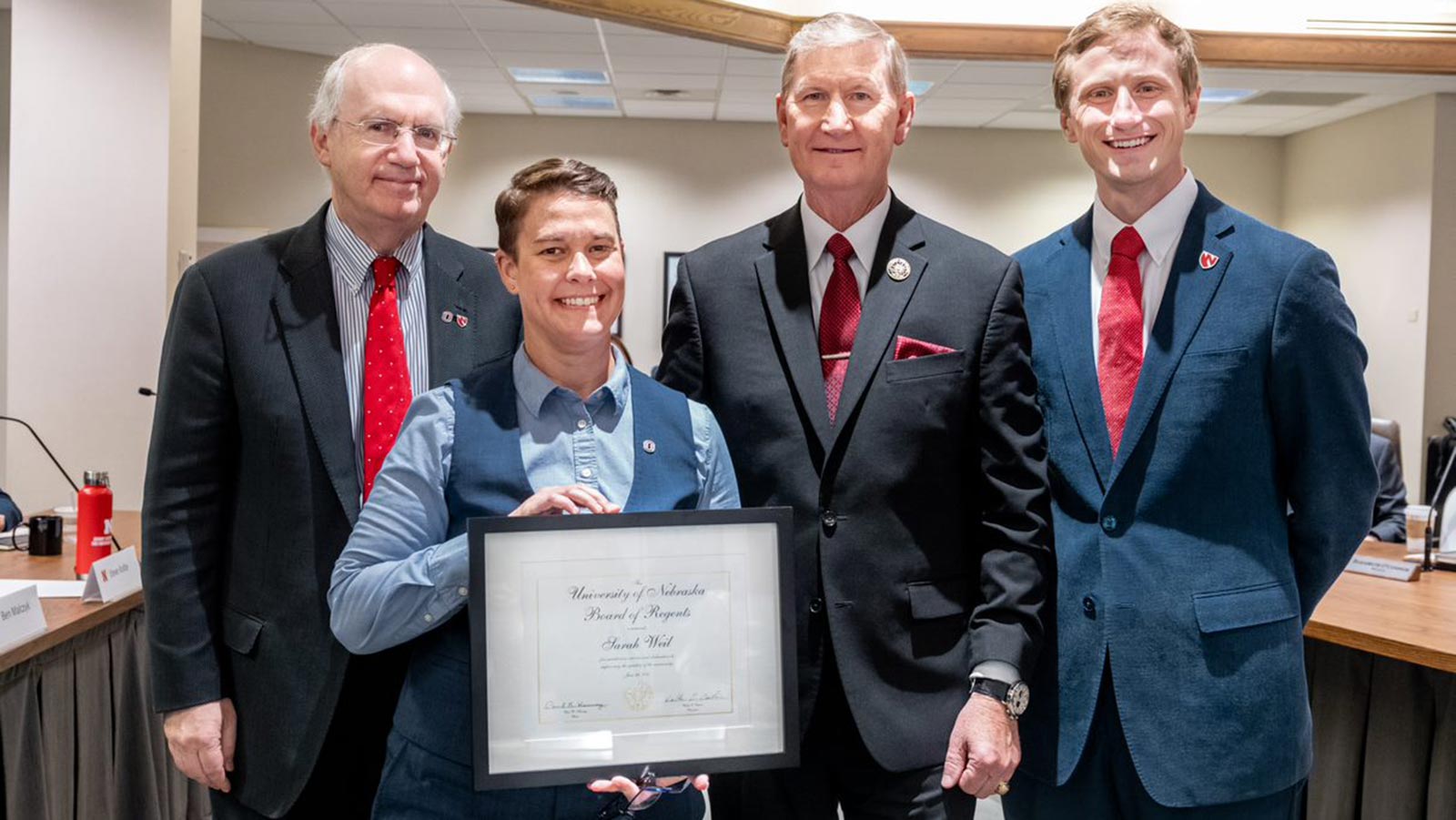 The Board of Regents is pleased to present a KUDOS Award to Sarah Weil, Title IX Coordinator for the University of Nebraska at Omaha and member of the UNO Office of Diversity, Equity, Access and Inclusion.
Sarah has been with the university since 2019, when she joined as the Deputy Title IX Coordinator, and moved into her current role on an interim basis in 2020 and formally in 2021. As part of her roles and responsibilities, Sarah oversees compliance, education, and campus leadership for statutes, regulations, and investigations related to Title IX and sexual misconduct policies at UNO.
In her nomination, Sarah was applauded for going above and beyond by leading several important updates to campus policies including the development of a unifying policy and procedure document for the University of Nebraska system. This included development of new Sexual Misconduct Policy, new sexual misconduct procedures for employees and sexual misconduct procedures for students.
Sarah is also responsible for spearheading efforts to understand and respond to new guidelines developed and released by the U.S. Department of Education, which the University is required to be in compliance with. In partnership with campus stakeholders, Sarah identified and ensured necessary updates to important documents used regularly as part of the compliance process.
In addition to the necessary updates, Sarah was recognized for her dedication to inclusion, making sure that any new forms and documents used appropriate language for impacted individuals. This also included a new training program that was updated and incorporated inclusive language and terminology.
Beyond these major campus initiatives, Sarah is lauded for her integrity and calm under pressure, as she navigates difficult discussions and decisions that bring with them high levels of emotion. However, this focus has not impacted Sarah's welcoming presence and commitment to making everyone is not only informed but supported.
All of these attributes make Sarah a valuable member of both the Maverick family and the larger University of Nebraska community.
Please join me in thanking Sarah for her dedication and commitment to UNO.