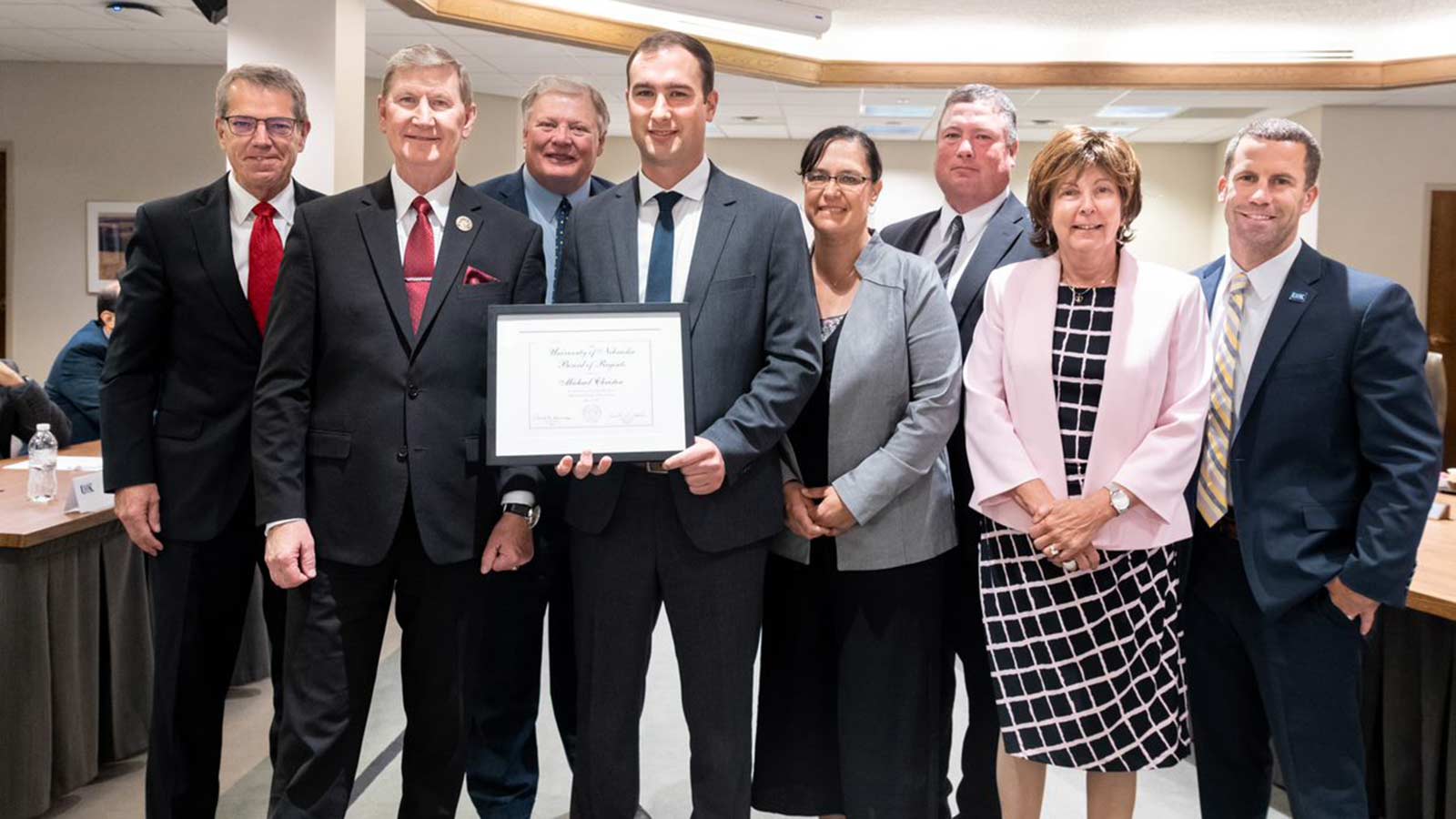 The Board of Regents is pleased to recognize Michael Christen, UNK Director of Business Services and Executive Director of University Village. Michael's hometown is Anselmo, NE, and his history with UNK started long before he joined UNK's managerial team in 2016. His grandmother graduated from Nebraska State Teachers College in 1938, his mother graduated from Kearney State College in 1989, and Michael graduated from UNK in 2014. He completed his Master's in business administration at the University of Kansas in 2015.
As Director of Business Services, Michael oversees campus dining services, the Antelope Bookstore, and contracted partnerships such as concessions, vending and banking services: he also manages, with guidance from General Counsel, all UNK contracts; supervises mail services and sponsorship contracts; and assists departments with financial analyses. He co-chaired Travel BRT in creating the University-wide employee travel policy and has assisted in managing the renovation of all dining retail concepts, the campus bookstore and the current renovation of the main dining hall. Michael also maintains and oversees insurance policies and claims. On February 18, a catastrophic flood in UNK's Bruner Hall of Science ruined millions of dollars in equipment, research supplies and space, and Michael served as the primary insurance contact. "He has been fantastic in the process of restoring BHS," says Professor of Biology and Assistant Department Chair Kim Carlson. "He really cares, and it shows in his work ethic, commitment to faculty, and commitment to UNK."
As Executive Director of University Village, Michael manages developmental operations; is Executive Director and Secretary for the University Village Development Corporation of Kearney; and recruits and assists current and potential developers. He led efforts in creating and executing the University Village master lease and the creation of Covenants, Conditions, and Restrictions; executed replatting of the site; assisted in the recent multi-phase, $48 million investment with private partners; and is currently working to recreate logos, branding and marketing. Vice Chancellor for Business and Finance Jon Watts describes Michael as "extremely talented" and one who "consistently produces great work and constantly brainstorms new ideas to overcome unique challenges." -- Please join me in congratulating Michael Christen for outstanding work on behalf of the University of Nebraska at Kearney. With Michael today are his parents, Mark and Robin Christen, and his supervisor, Vice Chancellor Jon Watts.