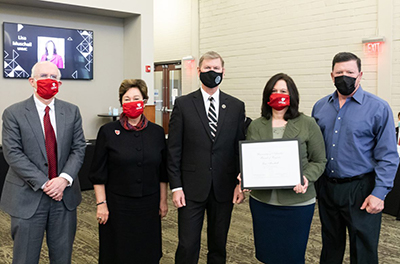 On behalf of the Board of Regents, I am pleased to present a KUDOS Award to Lisa Muschall, director of administration and operations in the UNMC College of Nursing.
Lisa's expertise is in process improvements, which benefits the College of Nursing and its divisions in Omaha, Lincoln, Norfolk, Kearney and Scottsbluff. Lisa, for example, worked with staff to create an innovative process for selecting staff recipients of the outstanding performance stipend. She also works regularly with faculty and staff across the five divisions to evaluate position descriptions when there is an opening and re-envision what is most needed to achieve the college's goals and mission.

"Lisa never relies on easy solutions and simply maintaining the status quo," her nominator said. "Instead, she tries to take the time needed to reflect and think about an issue or opportunity so we can use change as an occasion for growth and transformation."

Lisa's nominators praised her skills in financial analysis, business planning and human resources. Her concern and compassion, they said, is focused - first and foremost - on excellence, safety, quality and caring for nursing's internal and external constituents.

After the death of a colleague this past year, Lisa helped redistribute the work, train those who were picking up new responsibilities and identify someone who could help on a temporary basis. Said her nominator: "This was a monumental responsibility on top of the grief brought about by a colleague's passing."

Colleagues praise Lisa for her support of others and for fostering a culture of growth, learning and leadership development. Said her nominator: "(Lisa) is a uniquely talented individual and a true asset to the College of Nursing and UNMC."

Today, Lisa is joined by her supervisor, Dr. Julie Sebastian and her husband, Scott Muschall.

Please join me in thanking Lisa for her vision, commitment and support of UNMC and the College of Nursing.