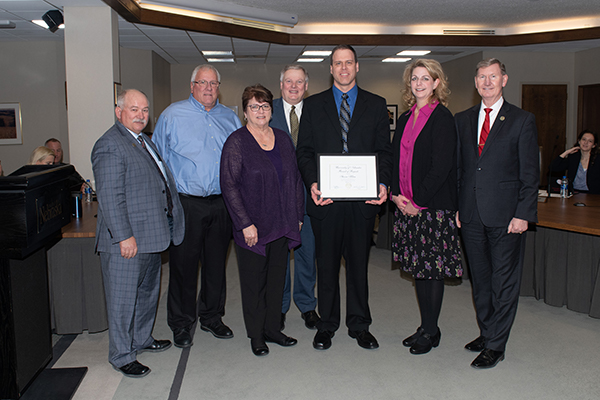 On behalf of the University of Nebraska Board of Regents, it is my pleasure to recognize Steven Klein, Workstation Support Specialist for UNK's College of Business and Technology.

A native of Pleasanton, NE, Steven began his career at UNK in August 2008. While his official job description includes supporting, implementing, researching and designing all technology in the College of Business and Technology, Steven describes his role this way: "I feel it is my personal duty to help my College any way I can, not just through technology."

This mindset and work ethic make him a highly respected "go to" person. He provides technology assistance; mentors student workers; leads UNK's Technology Coordinators Group; and assists with room and building space efficiency concepts. His major accomplishments include researching and implementing a listen assist system for a hearing-impaired faculty member; designing and implementing an audio system that became the standard across campus; and coordinating the physical and technological move of the Family Studies Department.

Former Dean Tim Burkink often referred to Steven as the "Building Supervisor" and current Dean Tim Jares praises his service-oriented mentality. "He is there to trouble-shoot issues when necessary, but he trains students, faculty and staff, helping lessen the demand for his intervention. He also takes the long view in searching for innovative solutions that will benefit the University and students in the future." Administrative Associate Stacy Darveau sums it up by saying, "I couldn't think of a better person to win the KUDOS Award."

Beyond UNK, Steven is an active volunteer in the Pleasanton community. He and wife Lori love spending time with their three sons, ages 18, 16 and 12.

Joining Steven today are his wife, Lori and his parents Earl and Pam Klein.

Please join me in thanking Steven Klein for his outstanding service to the University of Nebraska at Kearney.