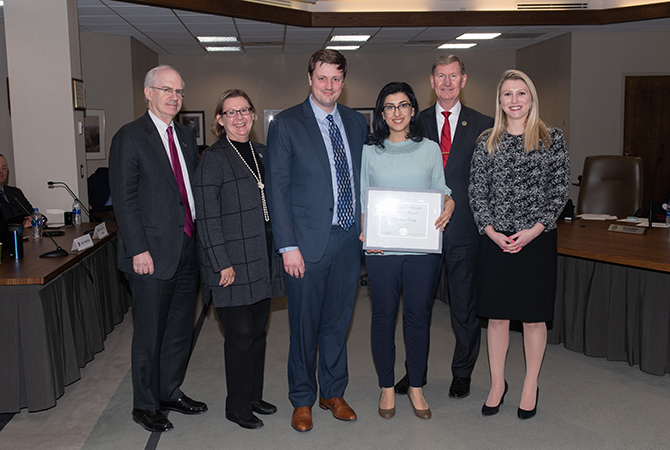 The Board of Regents is pleased to present a KUDOS award to Keristiena Dodge, Project Specialist in the Academic Affairs office at the University of Nebraska at Omaha.

Keristiena has been instrumental in the successful launch of UNePlan at UNO, as well as leading UNO's efforts to document its community engagement activities and partnerships. Her work implementing UNePlan, a web-based planning/ performance management tool that tracks the measurement of strategic initiatives and their alignment with UNO's strategic plan, is especially noteworthy.

From the first mention of the UNePlan system in summer 2017, Keristiena began a deep dive into understanding how it can support and enhance strategic planning. Keristiena worked closely with UNePlan's technology lead—providing feedback and testing. She developed the initial documentation to explain UNePlan to UNO units and worked one-on-one with individuals and small groups to assist with initial implementation, as well as on-going application.

Working closely with Jill Russell, Assistant to the Senior Vice Chancellor for Accreditation, she has prepared quarterly, end-of-year, and special, innovative reports that are critical to UNO's strategic planning efforts and support for institutional accreditation. Implementing any new system across a campus is challenging. Keristiena, with her deep knowledge as well as her outstanding communication and collaboration skills, has been critical to UNO's successful implementation and on-going development of UNePlan.

In addition, Keristiena has taken a leading role on an innovative project developing a system to document community partnerships. As part of this project, she is the subject matter expert for three graduate computer science capstone courses. The students in these courses have created an exciting new tool, and they credit much of their success to Keristiena's role as their "client." In every area she works, faculty and staff recognize her expertise, as well as her positive, collaborative, and supportive attitude.

Please join me in thanking Keristiena for her commitment to UNO.