The Board of Regents is pleased to present a KUDOS Award to Theresa Larson, operations manager in the Office of Comparative Medicine at UNMC.
Theresa has been with UNMC and Comparative Medicine since 2001, and provides outstanding customer service to upwards of 175 principal investigators and hundreds of research technicians who utilize Comparative Medicine resources and facilities. She is responsible for the daily operations of all animal-related duties including feeding, watering, cage changing and maintenance for all of the research animals.
Said one nominator: "Theresa genuinely cares about the people she works with, the animals in our care, the researchers that Comparative Medicine supports, and the University."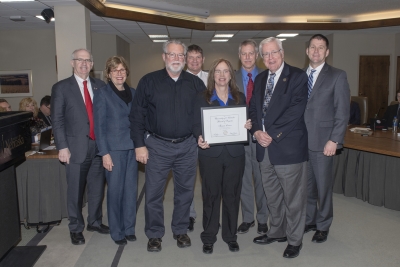 Theresa supervises 27 staff members and ensures that all animals receive care that meet or exceed all laws, rules and regulations of the U.S. Department of Agriculture, Public Health Service and the Association for Assessment and Accreditation of Laboratory Animal Care International.
In addition to her husbandry responsibilities, Theresa also trains principal investigators and their staffs in the operational procedures required in the facilities when working with research animals.
"She is an integral member of my research team," one nominator said.
Others noted how Theresa has taken on extra responsibilities, including helping develop, maintain and monitor an occupational health and safety program for all users of the animal facilities.
Described as having a "super human amount of patience," nominators say Theresa has an uncanny ability to tackle multiple, complex issues at once, and is an "irreplaceable asset" to UNMC.
She continually "strives to find new and better ways to work smarter, keep Comparative Medicine efficient, and improve animal care."
Please join me in thanking Theresa for her endless contributions and tireless dedication to improving UNMC's research services and facilities.
Theresa is joined today by her husband, Ron Larson.