The Board of Regents is pleased to present a KUDOS award to Sarah Kole, Housing Operations Coordinator at the University of Nebraska at Omaha.
There are just over 2,200 students living in six different residence halls at UNO, and Sarah is in charge of making sure that almost one thousand of those students have a place to stay. Having worked in Housing and Residence Life for the past four years, Sarah does everything in her power to ensure that every student who lives on campus has the best possible housing experience.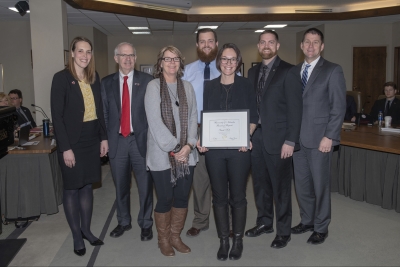 In charge of the application process for two of those six dorms, Sarah works hard to make sure that the students understand the process and are provided with all of the information they need for on-campus housing. Not only is she in charge of their application process, but Sarah has also helped develop and implement UNO's new RoomSync system that helps match those students to their new roommates.
Sarah's experience also extends to other parts of campus, often working with partners such as International Studies, Air Force ROTC, the Honors program, the Thompson Learning Community and many others, where students may need special housing requirements.
Aside from dealing with the hectic workload of the campus housing process, Sarah is also a certified Gallup Strengths Coach. Taking time out of her busy schedule, she meets individually with each Resident Assistant and RHA member to discuss their strengths and to teach them how to use those strengths in the classroom, work and in everyday life.
Her co-workers describe her as a superior communicator and adaptor. With housing applications already up by 25 percent for next fall, Sarah's peers repeatedly highlight her ability to prioritize and jump from one task to the next. When it comes to housing procedures, information, applications, emails and phone calls, Sarah always knows the answer.
It is for these reasons that I ask you to please join me in thanking Sarah for her commitment to UNO.
Joining Sarah today is Housing and Residence Life Director Trent Frederickson, Assistant Director Denise Wieczorek, and Sarah's husband Marshall.