The Board of Regents is pleased to present a KUDOS award to Rebecca Gratz, Multimedia Specialist within the University of Nebraska at Omaha's Office of University Communications.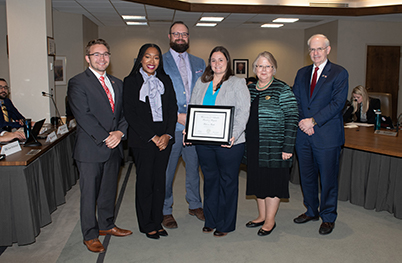 A new job in higher education usually involves a learning curve. However, Rebecca approached her role and learned the ins-and-outs of UNO's various elements almost instantaneously. She lives UNO's values, particularly excellence, inclusion and engagement. Her photos and videos perfectly capture what it means to be a Maverick in stunning quality. From an impromptu grin lighting up a ROTC cadet's face, to a parent giving a bear hug to one of UNO's newest grads, Rebecca has a knack for catching special moments.
With a very unique way of bringing out the best in everyone, Rebecca treats her colleagues with courtesy and respect. Whether it's a team member who is looking to collaborate on a new project or a campus partner who has a last-minute photo need, she is always willing to help. Rebecca recognizes the value of open communication and is quick to answer questions and seek feedback.
With more than 15 years of experience in photojournalism, she is a consummate professional. Rebecca arrived at UNO ready to put her skill set to use. Her abilities allow her to photograph high quality images in a variety of challenging environmental conditions, but she doesn't stop there. Rebecca can also rapidly edit photographs from each shoot and upload them online for campus access. Her superior organizational skills ensure those photos are easily found when they're needed.
As one of just two dedicated multimedia specialists on campus, Rebecca is in constant demand. Even with a packed schedule, she is always looking for the next storytelling opportunity. Her work is her passion and it shows.
Joining Rebecca today is her husband Dan Johnson. Please join me in thanking Rebecca for her commitment to the University of Nebraska at Omaha.