The Board of Regents is pleased to present a KUDOS Award to Kristi Milks, Office Associate in the Division of Academic and Student Affairs with the University of Nebraska at Kearney.
Kristi has served in her current position for the past 13 years but she has been part of the University family much longer. As a UNK student, she worked part-time in the Office of Institutional Data and Research then in May 1993, when she completed her degree in Business Administration with an emphasis in Office Management, she was offered and accepted a full-time position. Between then and now, Kristi's work has evolved greatly and, a time or two, the location of her office changed too. Ironically, her current position landed her back where she started in 1991, in the Warner Hall administrative offices.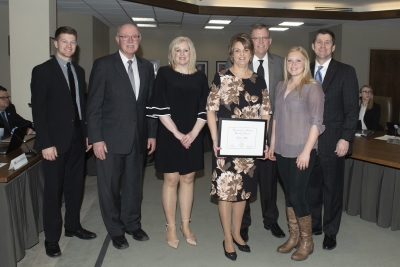 Kristi provides support to the Offices of the Senior Vice Chancellor for Academic and Student Affairs, Dual Enrollment, Assessment, International Studies, Women's and Gender Studies, General Studies, Institutional Research, and Academic Resources. More specifically, she assists in coordinating Academic Program Reviews; preparing faculty contract and salary letters; processing student academic probations and suspensions; monitoring budgets; finalizing travel arrangements; training and monitoring student workers; compiling Dean evaluation data; and coordinating Dean searches. This last-mentioned responsibility has required especially significant time and diligence in the past months as UNK conducted searches for the positions of Dean of Business and Technology, Dean of Arts and Sciences and Dean of Graduate Studies. Kristi's impressive attention to process and detail played an important role in the success of three major, nearly simultaneous, searches.
A popular and respected co-worker, Kristi is NU through and through. She graduated from UNK, her husband Alan attended UNK, daughter Macy graduated from UNL, and son Ryan from UNK. Alan and Macy are here today, along with her supervisor, Tami Plugge. It is a pleasure to recognize Kristi Milks for outstanding service to the University of Nebraska at Kearney.