The Board of Regents is pleased to present a KUDOS award to Jennifer Bodfield, Senior Academic Human Resources Specialist in the College of Arts and Sciences Dean's Office at the University of Nebraska-Lincoln.
According to her nominators, "Jen Bodfield has a vast knowledge of academic HR issues, a clear mind for recognizing problems, and the ability to translate this expertise into all the work she does with great precision and attention to detail."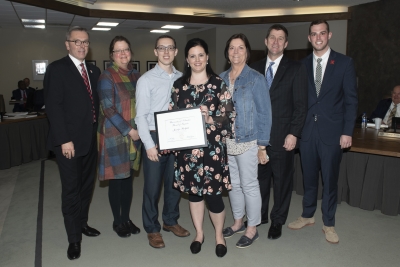 Going beyond her assigned responsibilities, Jen recently took the initiative to spearhead development of a new online Promotion and Tenure system while playing a central role in providing training for 300 faculty and staff on the new management tool. Through her efforts she learned the process forward and backwards and can answer almost any question regarding promotion and tenure and other faculty issues.
As her nominators stated, "Jen is meticulous in her work and always delivers a high quality product. Furthermore, she is well trusted among the faculty, staff, and administration….She is a great communicator and can successfully navigate a range of personnel issues, including dealing with tricky hiring questions and negotiating Memorandums of Understanding with units outside the college….Jen is a consummate professional—she's knowledgeable, responsive, and a world-class problem solver….Her work to develop the new system appears to be brilliant and faculty have returned from training excited to move to this new system!"
Today Jen has brought the following guests: Her husband, Cody Bodfield; Her mother, Becky Lehmer; Co-workers Stephanie Welch, Alycia Harden, Brenda Ensor, Joy Eakin, and Drashti Bhatt; Alicia Kimbrough, Assistant Dean; Priscilla Hayden-Roy, Associate Dean and Supervisor; and Elizabeth Theiss-Morse, Interim Dean of the College of Arts & Sciences.
Please join me in thanking Jennifer Bodfield for her dedication to the University of Nebraska-Lincoln and to the College of Arts and Sciences.