The Board of Regents is pleased to present a KUDOS award to Elizabeth Benson, Security Coordinator for Business and Finance at the University of Nebraska-Lincoln.
Beth leads a team that has provided superior financial and human resource system support for many years. As a normal course of business, they annually process over 6,000 financial system security changes. In addition, Beth serves as a key leader of UNL's emergency management operations.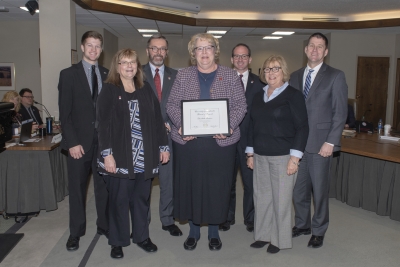 2018 was a year of profound change within UNL's business operations and she stepped up to the immense challenge. Her team processed over 7,000 lines of organizational relationship changes and fielded thousands of inquiries, serving as the subject matter experts for the campus, and often as key resources for the University of Nebraska system.
This year Beth's team proactively led the migration of over 1,000 employees to automated time. The elimination of the old paper processes for numerous departments has already saved hundreds of hours of staff time. Towards this effort, they conducted 36 training sessions and generously offered some on weekends and in the evening to accommodate UNL's diverse workforce.
Due to her dedicated reputation, Beth and her team were asked to assist with the Concur Travel software migration. They quickly rolled out numerous training sessions for financial leaders across the campus, just before the annual benefits enrollment period for the University. Beth then facilitated the annual benefits registration for 6,300 University employees.
Despite the extremely heavy workload, Beth has remained responsive and loyal. Her significant commitment is deeply appreciated by the employees and leaders of the University.
Today Beth is accompanied by Bill Nunez, Interim Vice Chancellor for Business and Finance, and Jeanne Wicks the Director of Sponsored Programs.
Please join me in thanking Beth Benson for her dedication to the University of Nebraska-Lincoln.