The Board of Regents is pleased to present a KUDOS award to The Cherish Nebraska Team at the University of Nebraska State Museum.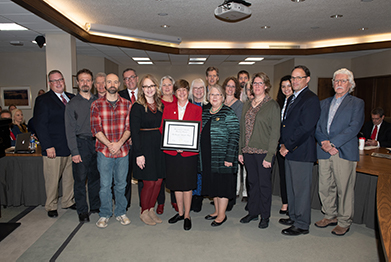 This is the team of individuals who led the renovation and opening of the Cherish Nebraska exhibition on the fourth floor at Morrill Hall in February 2019. The original visionary team, who saw potential in the long-closed fourth floor, and imagined and pursued a bold and audacious vision for its future, included: Priscilla Grew, Prem Paul, Judy Diamond, Jason Head, Matt Joeckel, Alan Osborn and Mike Zeleny.
This undertaking required the absolute highest levels of organization and project management to meet deadlines and keep the project on track toward completion. In addition to managing design and installation, the team created the original and research-based content that makes up the exhibits, which accurately and effectively bring Nebraska's natural history to life.
Planning and fundraising for the privately funded $11.4 million, 11,000-square-foot expansion began as part of the strategic planning for the museum in 2007. After being closed to the public for more than 50 years, the fourth floor of the historic Morrill Hall has been transformed into state-of-the-art exhibits using modern technology. As many in the museum world would attest, in terms of staff time and commitment, the scale of the expansion, with nine new exhibits, is akin to opening a brand-new museum.
Without the dedication and hard work of these outstanding professionals, the fourth-floor renovation at Morrill Hall and its impact on visitors would not have been possible. Together with private philanthropy, they made the vision for this space a reality and developed a previously untapped university resource into the "Smithsonian of the Plains."
The following Cherish Nebraska Team representatives with us today are:
Angie Fox, Project Manager
Kathy French, Education Coordinator
Mandy Haase-Thomas, Chief Communications Officer
Gabor Racz, Collection Manager
West Schomer, Exhibits Specialist
Ross Secord, Curator and Associate Professor
Alison Pearce Stevens, Claire M. Hubbard Research Assistant Professor of Environmental Curriculum
Shane Tucker, Highway Salvage Paleontologist
Susan Weller, Director
Mark Harris, Associate Director
Members of the Visionary Team with us are:
Judy Diamond
Matt Joeckel
Alan Osborn
Mike Zeleny
Missi Paul, representing Prem Paul
Also attending from the Office of the Vice Chancellor for Research and Economic Development:
Becky Zavala, Assistant Vice Chancellor for Research
Bob Wilhelm, Vice Chancellor for Research and Economic Development
Please join me in thanking The Cherish Nebraska Team for their dedication to the University of Nebraska State Museum.