The Board of Regents is pleased to present a KUDOS award to Angie Kennedy, Creative Director within University Communications at the University of Nebraska at Omaha.
Angie Kennedy is UNO's first-known Creative Director. Since joining UNO's Office of University Communications more than four years ago, Angie's talents have elevated UNO's brand presence, brand awareness, and ability to effectively communicate the authentic Maverick story. During Angie's time in the UNO Office of University Communications, she has contributed to major communications and marketing efforts that have led to statistically significant increases in public perceptions of UNO, the recruitment of UNO's largest incoming first year student classes (multiple years in a row), as well as significant increases in student retention rates.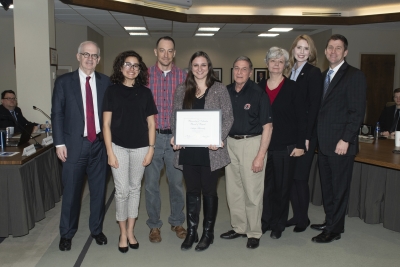 Angie sets high standards for herself and her team, and she exceeds them every time. She is an extraordinary mentor to her graphic design team, as well as others who serve in design and communications roles across campus. As UNO's creative lead, she led the creation of UNO's new undergraduate recruitment campaign, Access to Exceptional, focused on the recruitment of new undergraduate students. Recently, Angie led the NU system-wide effort focused on updating stationery for all campuses, as well as finding solutions for co-branding between two or more campuses. Angie's collaboration with campus and system colleagues was particularly important to the success of this project.
Angie has a strong ability to adapt, and ask the right questions up front to avoid confusion that could impact critical deadlines. In addition, Angie brings a great sense of calm and graceful leadership during stressful times or during times of ambiguity.
Work completed by the University of Nebraska at Omaha's Office of University Communications under Angie's creative lead has been recognized by numerous professional organizations including the American Marketing Association, the Association for Professional Design, the Higher Education Advertising Awards, and many more. UNO is VERY lucky to have Angie as a fellow Maverick.
Joining Angie today is her husband, John, her parents, Jim and Mary Anne Mazzei (may-zee) and her Supervisor Emily Poeschl (pay-shul).
Please join me in thanking Angie for her commitment to UNO.