The Board of Regents is pleased to recognize Traci D. Gunderson, Assistant Director of International Recruitment, Marketing and the English Language Institute at the University of Nebraska at Kearney. Traci earned her BA in International Studies from UNO and her Master of Science in Global and International Education from Drexel University. She joined the UNK staff in January 2007 and has worked in her present position since April 2016.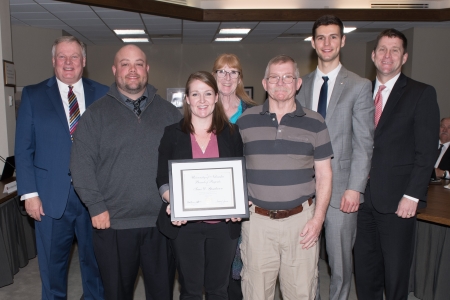 Traci's responsibilities include working with International Affairs lead-ership to diversify recruitment and create programming; overseeing two international recruiters and maintaining a knowledge base on enroll-ment trends and cultural concerns; coordinating social media campaigns and content creation; assessing effectiveness of recruitment, marketing and ELI strategies; advising students on immigration regulations; and processing relevant documentation. Dr. Timothy Burkink, Dean of the College of Business and Technology, and current Interim Director of the Office of International Education, credits Traci for also taking on additional responsibilities in recent months, created in part by a staff vacancy and in part by office reorganization. "Even under these very challenging circumstances," he said, "she created a new ELI curriculum for a local company, saw several memorandums of understanding with partnering institutions through finalization, and helped assess office resources and deployment of personnel as we work to develop a revised recruiting plan for the Office of International Education."
The current President of UNK Staff Senate, a former Leadership UNK member and officer, an active member of several national professional organizations, and a 2011 participant in UNK Faculty Development in China, Traci says she is most proud of the team she gets to support each day as they provide positive experiences for international students; the collaboration and creativity of that team; and policies that have been streamlined to produce greater team efficiency and effectiveness.
Joining Traci today are husband Lance Gunderson, daughter Ashlyn, and parents William and Kelly Schellhase (SHELL-haze). Congratulations to Traci Gunderson for achievements above and beyond the ordinary.