The Board of Regents is pleased to present a KUDOS award to Sarah Burke, Sustainability Coordinator at the University of Nebraska at Omaha. Sarah is responsible for the implementation of sustainability practices and initiatives on UNO's campus.
Sarah was appointed to her position in 2015 and has since helped UNO make strides in its sustainability efforts. From transportation to food waste, Sarah is helping make UNO a pleasant place to work, learn and make an impact.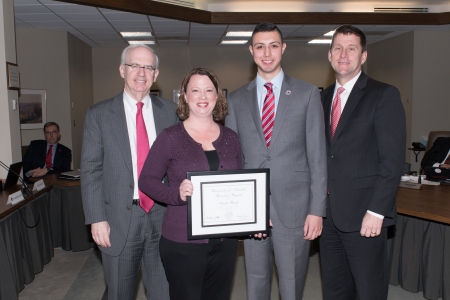 When students voiced concern of a growing food waste problem on campus, Sarah worked with them to help form the executive team called "Every Bite Counts", a student-led club and food recovery program. That team now operates with the Omaha chapter of Campus Kitchens, a nationwide effort to combat food waste and insecurity.
With Sarah as a driving force to improve the University's economic footprint, UNO was named a "2016 Cool School" by Sierra Club, earning top scores in Sustainability Planning, Sustainable Transportation, and Co-Curricular Activities.
More recently, as the University welcomed UNMC Chancellor Dr. Jeff Gold as UNO's own Chancellor, Sarah has begun to work closely with the sustainability office at UNMC in an effort to align strategies and build shared momentum for both institutions.
Her peers have praised her work, commending her ability to partner with faculty, staff and students to animate and refine UNO's campus sustainability strategic plan. "We are very proud of Sarah," they commented, "She has proven to be a true sustainability champion within the NU System."
It is because of Sarah's hard work and dedication to UNO and its sustainability efforts that the campus continues to shrink its environmental impact footprint within the community.
It is for this reason; I'd like you to please join me in thanking Sarah for her commitment to UNO.