On behalf of the Board of Regents, I am pleased to present a KUDOS award to Rita Laire, administrative and faculty services coordinator in UNMC's Department of Internal Medicine.
Rita works in the largest clinical department on campus and, according to nominator and department chair Dr. Debra Romberger, Rita is a "true partner" to her and Dr. Gerald Moore, chair of the department's Promotion and Tenure committee.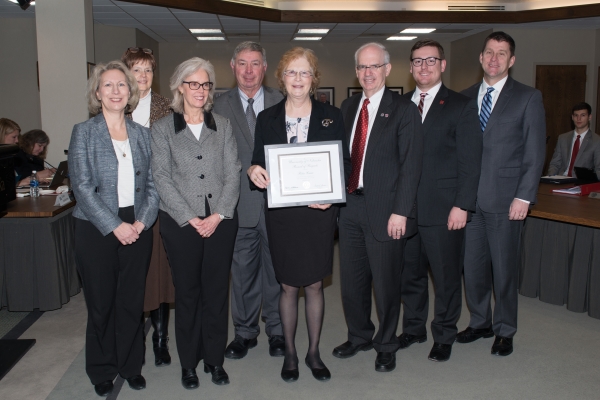 Rita is a stickler for details and makes sure faculty promotion and tenure applications are put together completely, and in a way that facilitates the applicants' review at both the department and College of Medicine level. In fact, her nominator said, people from other departments seek her out for her templates and general guidance with the process.
Rita also is the go-to person regarding university regulations and is ever mindful of costs and being a good steward of funds.
She is quick to help co-workers and has organized meals or other assistance in times of illness, injury, death or other life challenges. Said her nominator, "I have seen her take a reward she has been given and pass it along to someone else to make their life better."
Rita has a tremendous impact within her department, her nominator said. She "looks for opportunities to help us celebrate the good things that happen in the lives of her co-workers and helps bring joy to those around her."
Today, Rita has brought Dr. Romberger; supervisor, Angela Peppers; husband, Steve Laire; and friend, Selaba Travis. Please join me in thanking Rita for her dedication and professionalism to her colleagues and the UNMC Department of Internal Medicine.