The Board of Regents is pleased to present a KUDOS award to Mary Jane Bruce, Broadcast Specialist and Producer for the Office of University Communications at the University of Nebraska-Lincoln.
Mary Jane announces every graduate's name at Commencement. She creates and narrates video and audio stories about the accomplishments of Nebraska's students, faculty and staff. She produces podcasts and other pieces that highlight the achievements of the people at the University of Nebraska-Lincoln. Most recently Mary Jane established and hosts "Faculty 101 Podcasts" every two weeks that highlight accomplishments and life advice from individual faculty members.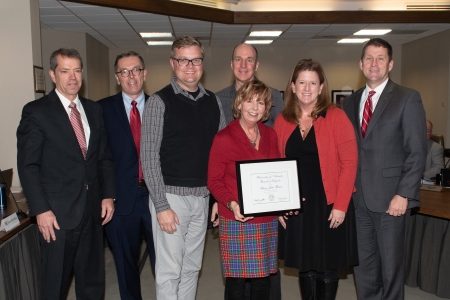 For 25 years Mary Jane has been an innovative storyteller, finding the most interesting angle in helping faculty translate their teaching, research and outreach to wider audiences while letting the world know that Nebraska students and faculty are tops in their fields. Her distinctive, precise voice is inviting and authoritative. She is one whose voice is recognizable as "Nebraska."
She also has taken her personal interest in healthy living to the next level, by being a leader in University Wellness initiatives and modeling healthy lifestyle activities. She is known for her distinctive personal style, positive attitude and commitment to hard work.
Mary Jane holds both bachelor's and master's degrees earned through the College of Journalism and Mass Communications. Prior to joining University Communication, in 1993 she was a reporter and anchor for KOLN-KGIN 10/11 station in Lincoln. She and her husband, Tom Stephens, are the parents of sons Daniel and Bryan.
Today Mary Jane has brought the following guests: Deb Fiddelke, Chief Communication & Marketing Officer; along with co-workers, David Fitzgibbon and Curtis Bright.
Please join me in thanking Mary Jane for her dedication to the University of Nebraska-Lincoln and to the Office of University Communications.