The Board of Regents is pleased to present a KUDOS award to Marissa Wolfe, Program Coordinator and Advisor for the 'Success Academy' at the University of Nebraska at Omaha. Marissa helps retain the program's students and provides them with the resources they need to be successful while at UNO.
With an admissions process that encourages the enrollment of "academically at-risk" students, Marissa's job is to, first and foremost, connect with students so that they may know success is possible and expected. She helps these students learn about the scholarships available to them.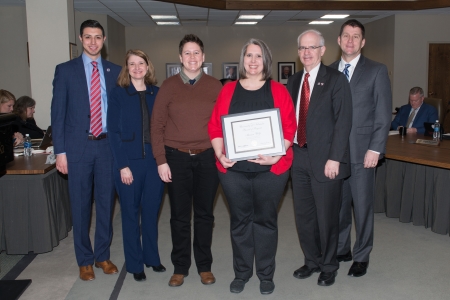 Marissa is excellent at considering the big picture, anticipating the needs of students, and strategizing efficiencies without compromising quality. Her peers have said that her "…commitment to the Success Academy, her accountability to students and independence in her actions and trusted decisions have elevated the Success Academy and put it on an exciting trajectory."
Students have also commended Marissa's helpful and nurturing personality. "She is genuinely willing to help out," they say. "If I need help, I know she'll be there for me." Marissa has incorporated the use of a graduate assistant, as well as undergraduate peer mentors, to further enable the success of program participants.
Marissa's hard work and dedication to the Success Academy and its students greatly increases students' successes during their time at UNO, and directs them toward major contributions to society, once they leave UNO on their career paths.
Marissa is joined today by Cathy Pettid, Assistant Vice Chancellor of Student Affairs, and Marissa's spouse, Erin Betram. Please join me in thanking Marissa for her leadership and commitment to UNO.