The Board of Regents is pleased to present a KUDOS award to John Keenan of the University of Nebraska Medical Center's Public Relations department. John is editor of UNMC Today, the med center's daily newsletter. He writes and edits stories, curates news, keeps a steady hand on the till, and in many ways serves as the internal voice of one of our nation's leading academic medical centers.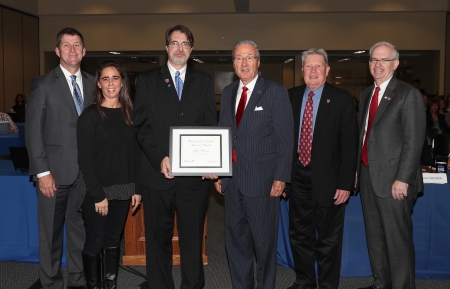 But, like many who work in academic medicine, John has a dual appointment.
Every day, and often multiple times a day, his peers in the PR department hear John announce, "I'm going over to MMI," as he heads out on a half-mile walk across campus to the Munroe-Meyer Institute for Genetics and Rehabilitation.
John's boss, Karen Burbach, Senior Associate Director of Communication and Creative Services, said, "One might think he works full-time for both MMI and PR."
John also serves as MMI's PR and communications liaison, and his work there has drawn rave reviews from the folks at MMI, who wholeheartedly nominated him for this award.
He is passionate about helping MMI advance its mission to improve the lives of children and adults with complex health conditions and developmental disabilities.
"He cares," said Dr. Karoly Mirnics, Director of the Munroe- Meyer Institute.
"Few would hesitate to step forward on his behalf as he has done for them time and time again," said MMI's Director of Community Engagement Melonie Welsh.
Today, John has with him his supervisor Karen Burbach (bur-back).
Please join me in thanking him for his dedication to UNMC, to the Munroe-Meyer Institute, and to our university. Thank you, John.