The Board of Regents is pleased to present a KUDOS award to Jerry Parriott, Business Manager for the Nebraska Business Development Center and Grant Financial Officer within the College of Business Administration at the University of Nebraska at Omaha.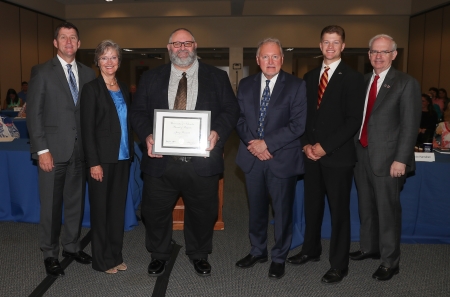 With over 5 years of experience in his capacity of Business Manager, he has a deep knowledge of all aspects of the financial management of the department's resources. His colleagues describe him as a thoughtful and thorough communicator, assuring that those he serves understand the business and financial details of their program or grant.
Always striving to improve his skills and services; Jerry exemplifies the practice of collaboration with a high degree of professional service. Not only does he perform the duties related to his title, but he is also a strong and caring leader for his team; managing communication and administrative processes of the NBDC.
The Nebraska Business Development Center has provided professional level consulting assistance to small businesses all across the state of Nebraska, throughout the Omaha metro, as well as within the UNO community itself. NBDC takes pride in being a valued resource in the Nebraska economic development ecosystem. Together with local Chambers of Commerce, local and state economic developers, the University of Nebraska system and other higher education providers; they help employer-based entrepreneurs, established companies and students succeed.
The services of NBDC are not possible without its partners and amazing staff members like Jerry; continuously providing incredible service, not only to Nebraska and the Omaha metro, but to the faculty, staff and students of the University of Nebraska at Omaha.
It is for these reasons that I ask you to join me in thanking Jerry for his commitment to UNO.
Joining Jerry today is his supervisor Catherine Lang, Assistant Dean and State Director of the Nebraska Business Development Center.