The Board of Regents is pleased to present a KUDOS award to Jeffrey Perkins, Facility and Operations Manager for the UNL Swine Unit at the Eastern Nebraska Research and Extension Center, where he has worked since 1982.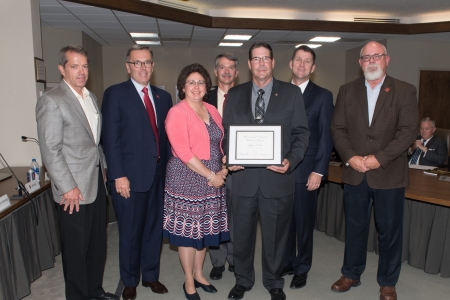 According to his supervisor and nominator, Professor Phillip Miller, Jeff has many outstanding attributes, but his interactions with co-workers stand out the most. Jeff is very hands-on and has passed along the training and mentoring needed to make all employees of the Swine Unit experts in data collection and pig production. The high standards set for procedures, data collection and data archiving are the result of Jeff's leadership and commitment to comprehensive, high quality training within the unit. "We have one of, if not, the best swine research crew in the US and maybe the world," based on Jeff's expertise and management skills.
Jeff oversees the maintenance and archiving of electronically captured research, production and environmental data. Data in health records and production milestones has been especially useful to genetic and nutrition research that examines factors affecting progeny over multiple reproductive cycles.
The Swine Group Research Coordinator added, Jeff "is willing to rearrange schedules at the farm to accommodate when staff and students are available to come from Lincoln and collect data …. making time later for all the other things he needs to do to keep the farm running smoothly. Jeff is a great person to work with and does an exceptional job managing the farm and ensuring data integrity."
Jeff is an incredible ambassador for the University of Nebraska and exhibits extreme pride regarding his position, co-workers, and the Swine Unit.
He is joined today by his wife, Robin Perkins; Professor Clint Krehbeil, Head of the Animal Science Department; and Professor Phil Miller.
Please join me in thanking Jeff Perkins for his dedication to the University of Nebraska-Lincoln and to the Department of Animal Science.