The Board of Regents is pleased to present a Kudos award to Jared Burkholder at the University of Nebraska-Lincoln.
Jared is primarily responsible for the management of the University's geographic information systems, now referred to as NU GEO and has been employed with University Police since 2007.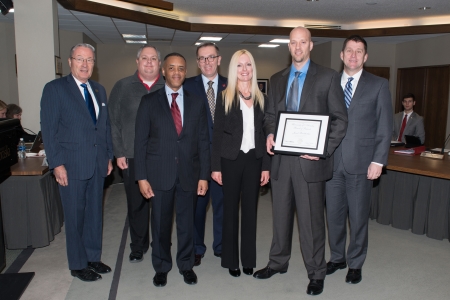 As a graduate student in the School of Natural Resources, Jared worked for the Center for Advanced Land Management Information Technologies. In collaboration between UPD and CALMIT, he became the principal mapping developer, which began the implementation of GIS for business operations at UNL.
Over 300 university employees currently use the NU GEO program to help their departments improve efficiencies and operations. NU GEO is an innovative and progressive way of linking a host of otherwise isolated databases together into this program to assist in management of university operations including incident tracking, facility and utility management, space use and event operations. As a budgetary tool, the continual availability of needed information reduces the time, labor and research needed by departments to conduct their work analysis.
The use of NU GEO for football games and large events is recognized nationally. The application helps UPD and Athletics know what is occurring at the stadium, and even uses historical data to forecast what can be expected to occur and where it will occur. NU GEO is also a required tool for daily police use, during emergency situations and University and Lincoln area events.
Jared's supervisor has noted, "Jared always has a lot going on and gets many requests for help. Jared always seems to get high priority tasks at the last minute and has to manage his normal work load with these requests and does a fantastic job. He is always willing to help and assist staff with their data needs and does so quickly. The data that Jared organizes is instrumental in the understanding of events, trends and strategic planning."
Jared is accompanied today by his wife, Sheri Burkholder; Assistant Chief of Police, Hassan Ramzah; and UPD IT Manager, Sean Humphrey.
Please join me in thanking Jared Burkholder for his dedication to the University of Nebraska-Lincoln and to the University Police.