The Board of Regents is pleased to present a KUDOS Award to Jane DeVasure, Research Technologist II, in the College of Medicine's Division of Internal Medicine-Pulmonary. As a scientist, Jane has more than 40 years of laboratory experience.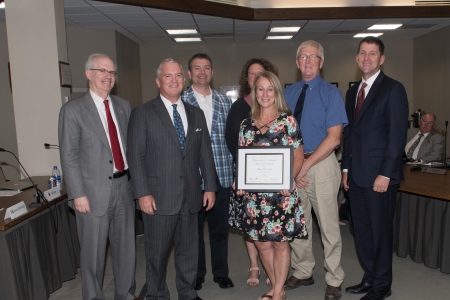 Her supervisor, Dr. Todd Wyatt, says Jane has witnessed – and embraced - a continued revolution in research technology in order to creatively answer challenging research questions. Throughout her career, she has successfully researched for, and found new ways of, answering tough research challenges using molecular, bio-chemical, cellular and animal models.
During her career, she has selflessly made others look great – molding students, residents and fellows, who had little or no exposure to basic laboratory research, into research scientists through her experienced teaching skills and endless patience. "Everyone who has ever trained in our extended pulmonary research laboratories instantly respects, admires and loves Jane," Dr. Wyatt said.
He says her sharp observational skills have been a rainmaker for new ideas emerging from the unexpected. "In addition to the quality of data generated, Jane has maintained the highest standards in running a safe and quality laboratory where numerous personnel come and go throughout each year."
Congratulations, Jane, on receiving the KUDOS Award from the Board of Regents. In celebration, Jane is today joined by her supervisor, Dr. Todd Wyatt, husband Keith Siebrandt and friend Stephanie Ahlschwede. Please join me in thanking Jane for her dedication and professionalism to her colleagues and the UNMC Department of Internal Medicine.