The Board of Regents is pleased to recognize Deborah Huryta, UNK Compliance Manager. Deb holds a Business Administration Comprehensive degree with emphasis in Marketing from UNK, and in 1995, she joined the UNK staff as Director of Publications. From there, her career path led steadily toward the field of Human Resources and included positions as Dual Career Program Director, assisting accompanying partners of new faculty and staff find suitable and rewarding employment; as Human Resources Generalist; and as Ombudsperson. Her quiet and sincere nature, her ability to earn and keep the trust of colleagues and clients, and her sense of humor even in difficult situations, made her a wonderful fit for those positions, and these assets continue to serve her very well in her relatively new role as Compliance Manager.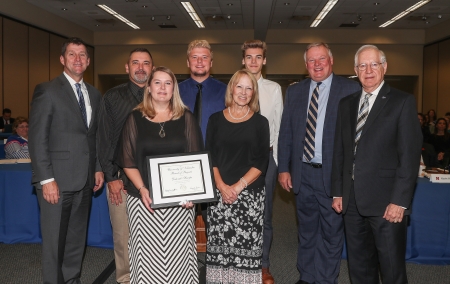 Currently, Deb's major responsibilities entail administering Family Medical Leave, preparation and maintenance of ADA plans, serving as Ombudsperson, and serving as Records Officer, overseeing records maintenance and responding to public records requests. With these responsibilities in mind, it is easy to see why her aforementioned sense of humor in difficult situations is important. In addition, Deb is a Leadership UNK graduate, and serves on the UNK Professional Development Committee and the Economic Development Council of Buffalo County's Human Resources Roundtable Group.
Colleagues describe Deb as gracious and dedicated, as compassionate and fun, and as one whose good work is equaled only by her humility. When asked about accomplishments, she says she is most proud of the work she does every day. "Helping students and employees solve whatever issue they are facing removes a burden for them," she says, "and to do so helps them focus on their primary goal, in the end making them a successful student or a successful employee. To be just a small part of building the future is as rewarding as it gets!"
Joining Deb today are husband Kirk, sons Keegan and Karson, and her Aunt Bev. Congratulations to Deborah Huryta for her unfailing professionalism and her exceptional work on behalf of the students, faculty and staff of UNK.