The Board of Regents is pleased to present a KUDOS award to Dan Kenny, a software developer within the Department of Information Technology Services at the University of Nebraska at Omaha. Dan is a resident data expert for UNO, a trusted advisor and innovative thinker, whose knowledge of business processes and reporting is unparalleled.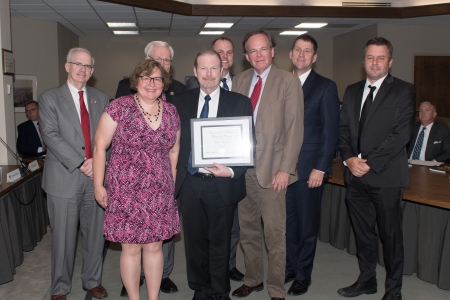 The last year has been one of great change for ITS through the OneIT initiative, and Dan has handled this change pragmatically and with great professionalism.
He will often spend time on the weekends ensuring database systems are updated and available. Recently, Dan has helped build integrations for the Canvas LMS, Courseleaf class scheduling, the data analytics environment and Degree Audit systems. Currently, Dan is helping to identify working efficiencies through software development.
Dan is a very talented programmer, but what makes him great at his job is the trust he has built with his fellow employees, and his ability to communicate complex technical matters to staff and stakeholders. He meets regularly with campus representatives from the Nebraska Student Information System to ensure that degree audits are relevant and easily understood by UNO students.
Dan has "kept the lights on" and the "trains on time" for more than 17 years at UNO. He has a wealth of knowledge pertaining to the various campus systems and the data integrations that are required to keep them going.
Dan is joined today by his wife Karen, along with Mark Askren, Vice President of IT, Bret Blackman, Associate Vice President of IT and Jesse Clark, Director of Application and Development Services – ITS.
Please join me in thanking Dan for his commitment to UNO.