The Board of Regents is pleased to present a KUDOS award to Courtney Frost, administrator in the Surgery-Plastic and Reconstructive Department at UNMC. During this time of change, Courtney has demonstrated her ability to collaborate with several different departments to ensure transformations are smooth and seamless. When a new scheduling system was installed, she insulated the providers and patients from appointment disruptions. Providers consider her their "go to" person.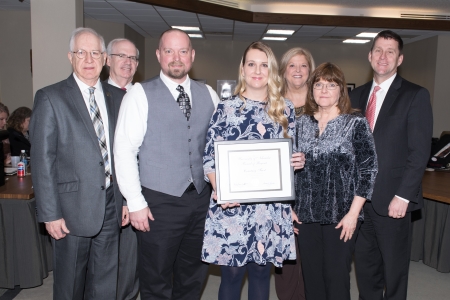 Courtney leads by example. Her high moral standards direct her decisions, she takes responsibility where it is hers and educates others when it is needed. If she doesn't have an answer, she knows where to find it.
She makes difficult decisions, expects her staff to rise to their potential and works tirelessly with her providers, sometimes telling them things they don't want to hear while maintaining their trust.
Courtney is a life-long learner and is committed to achieving higher educational goals to stay current with the newest developments in the field. Three years ago she earned a master's degree in public health and also achieved a medical practice executive certification from the Medical Group Management Association.
Congratulations, Courtney, on receiving the KUDOS award from the Board of Regents.
Today, Courtney is accompanied by her supervisor, Carin Borg; her husband, Toby; and Sally Cowell, her mother. Please join me in thanking Courtney for her professionalism and dedication to her colleagues and the UNMC Department of Surgery-Plastic and Reconstructive.