The Board of Regents is pleased to present a KUDOS award to Yuriko Doku, Project Coordinator in the Office of Latino and Latin American Studies at the University of Nebraska at Omaha. Yuriko was also recently selected as a recipient of UNO's Employee of the Year award.
Nearly 50 percent of all students of color in the University of Nebraska system attend school at UNO. Out of UNO's nearly 16,000 students, a large number are of Hispanic or Latino heritage. The Office of Latino and Latin American Studies serves a crucial role in those students' success.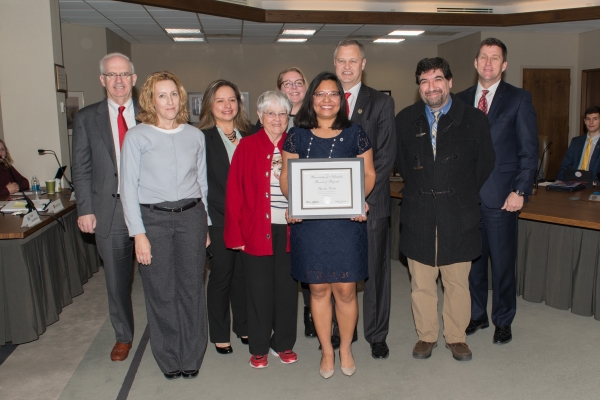 For the past two years, Yuriko has been instrumental in maintaining and solidifying OLLAS's stature as the preeminent Latino research and outreach center on the Great Plains. She serves as more than a program coordinator due to her careful stewardship of OLLAS's role in Nebraska and beyond. OLLAS's civic and cultural engagement impacts many communities and constituencies.
While UNO searched for a new Director for OLLAS, Yuriko kept all of the office's academic, research and engagement activities on track and maintained good communication with the interim directors, faculty, students and community partners.
"Yuriko has shown a high degree of adaptability and flexibility in carrying out office tasks" said one of Yuriko's colleagues. "She is able to adjust as contexts and conditions require and shows an impressive ability to perform under pressure."
It is because of Yuriko's work that the Office of Latino and Latin American Studies at UNO continues to operate efficiently and maintain its commitment to expanding knowledge beyond the classroom.
Yuriko is joined today by OLLAS Business Manager of the College of Arts and Sciences, Gayle Peterson; Dr. Ann Conye, fellow OLLAS Faculty and Professor of Social Work; as well as friends, Marisol Rodriguez and Clare Maakestad.
Please join me in thanking Yuriko for her commitment to UNO.