The Board of Regents is pleased to present a Kudos award to Nora Huscher, Director of Business Systems in the Department of Financial Systems at the University of Nebraska-Lincoln. 25 years of experience make her an irreplaceable change management leader. She is recognized across the campus as an insightful expert in the areas of financial systems, human resources, payroll and academic affairs processes. Information technology managers rely on her to troubleshoot security, access and data population issues.
In 2016, Nora and her team responded to requests for information and support from more than one hundred different units on campus. For many, the Financial Systems team has provided the only access to decision support data.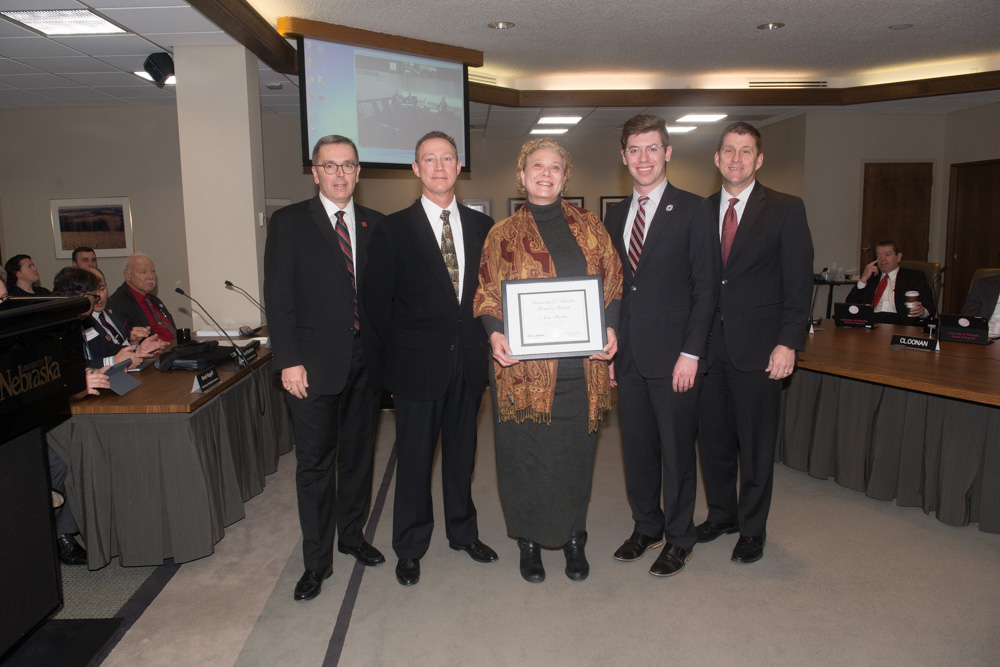 Nora has established a reputation for connecting people to optimize success on projects. Through her collaborative efforts with more than ten different offices, she and her team, shrunk the graduate student onboarding processes from several months to days.
Nora has co-led the creation of the Business Operations Workshop, presented best business practices at a regional conference, supported the United Way outreach, delivered executive decision support, and invested hundreds of hours to address institutional compliance.
As Jeanne Wicks, the Director of Sponsored Programs states, "Nora has been providing outstanding service for many years and deserves to be recognized for her contributions of timely, accurate, and complete reporting that we all have come to rely upon." Jane Schneider, of UNL Graduate Studies, also enthused, "You couldn't ask for a better person to nominate for KUDOS."
Nora is accompanied today by her husband, Ted. Please join me in thanking Nora Huscher for her dedication to the University of Nebraska-Lincoln.