The Board of Regents is pleased to present a KUDOS award to Larry Shippen, Associate Director for Housing Facilities Operations at the University of Nebraska-Lincoln.
Larry began his career in University Housing in 2000 and was promoted to the position of Associate Director for Housing Facilities Operations in 2013, overseeing all aspects of facilities and custodial services. Larry has unfailingly advocated for providing excellent service to our residents and their parents while demonstrating exemplary commitment to wise stewardship of the human, financial and physical resources.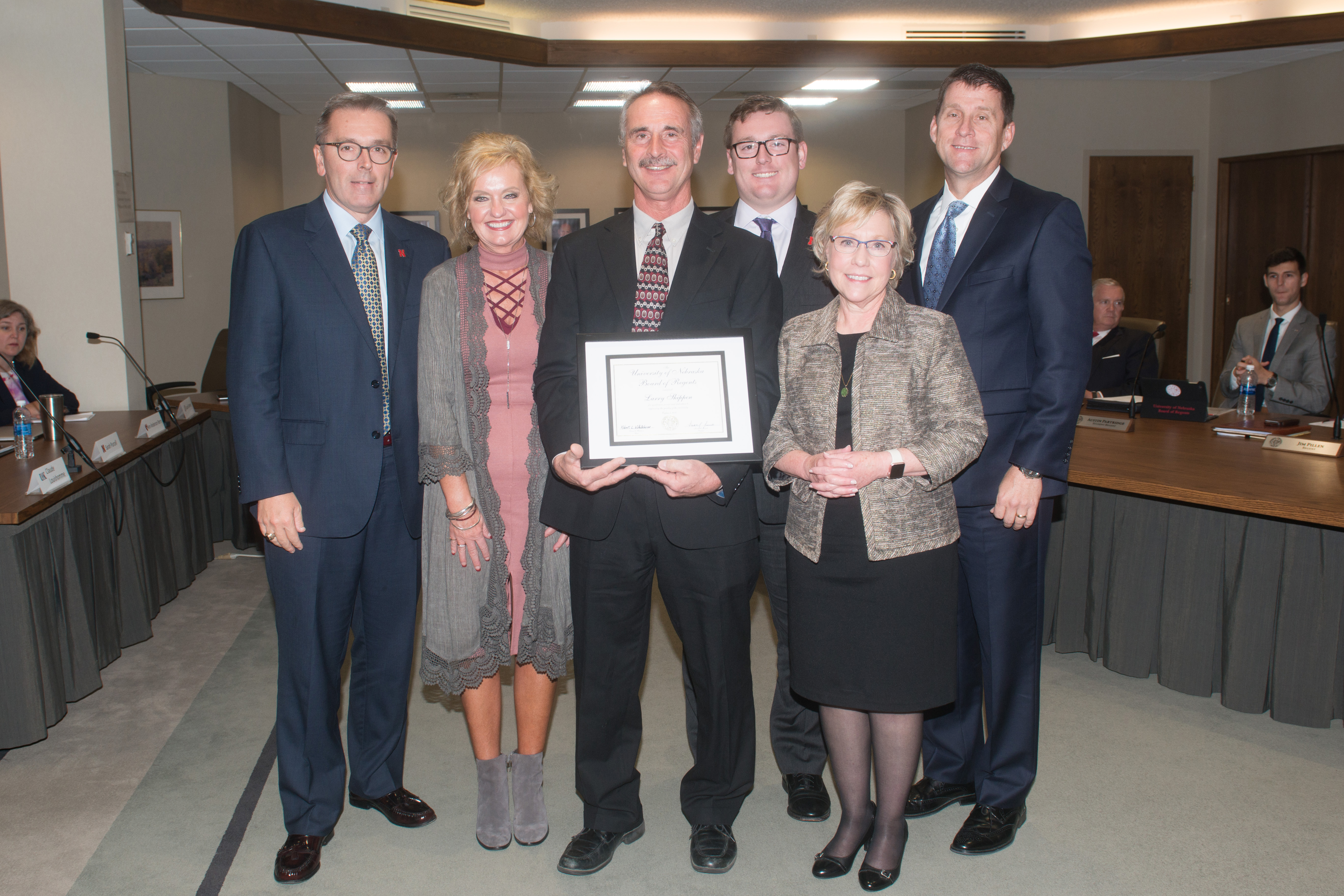 Larry has taken a lead role representing Housing throughout one of the most aggressive facility inventory upgrade programs in the country. This includes construction of seven new residence halls and the recently completed Cather Dining Complex, and major renovation of five residence halls and three dining centers. Larry has helped balance students' needs and preferences with the importance of planning for long-term maintenance and energy conservation in the selection of design features, systems, and materials.
Housing custodians work hard every day to make sure that bathrooms and common areas are clean, and this work is often unpleasant and under-appreciated. Larry takes time to talk with each custodial staff member to get to know them and to make sure they understand how important their work is to our students, parents and guests.
Larry works directly with students needing special room modifications due to a disability. He has often met with students and their parents on evenings or weekends to accommodate parents' work schedules. He takes time to make suggestions and, as needed, to consult with outside specialists on what type of facility change would be the most beneficial to keep the student safe and comfortable.
Under Larry's leadership, UNL has earned very high rankings in student satisfaction, earning 2nd out of 47 Carnegie Class institutions participating in the survey. Larry understands the quality of a university's housing facilities are a critical factor for new students deciding where to enroll.
Joining Larry today is his wife, Ladonna, and Sue Gildersleeve, Director of Housing Administration. Please join me in thanking Larry for his dedication to Housing Operations at the University of Nebraska-Lincoln.