The Board of Regents is pleased to present a KUDOS Award to Jolene Berg, Student Accounts Manager, and Finance Office. A member of the professional staff since 1998, she is also a UNK graduate, her husband attended UNK, and both of her sons are currently UNK students.
Jolene's major responsibilities are the oversight of student account and cashiering operations to ensure policy compliance in the collection of student debt; supervision of a staff of five who assist in the areas of student accounts, cashiering and collections; and configuration and testing of Peoplesoft and MyBlue financial aspects, including rate tables, student and third party bills, waivers, refunds, payments, write-offs, tax forms and security. In addition, on occasions when her staff escalates an issue to Jolene, she works directly with students, parents, third party agencies, faculty and staff for timely resolution. Jolene's work requires her to follow stringent procedures and continuous testing of upgrades and enhancements. Some of her colleagues go so far as to classify her responsibilities as dry and tedious! But it is important work, the results of which extend throughout the campus. Her organized, honest and disciplined work ethic make her a perfect fit for these responsibilities and her supervisor, Director of Finance Jill Purdy, says, "there are so many good things to say about Jolene that it is hard to stop." Another of Jolene's strengths is her personality. Her calm, optimistic, and kind and friendly nature serve her well in building and maintaining strong relationships in her office and across the University.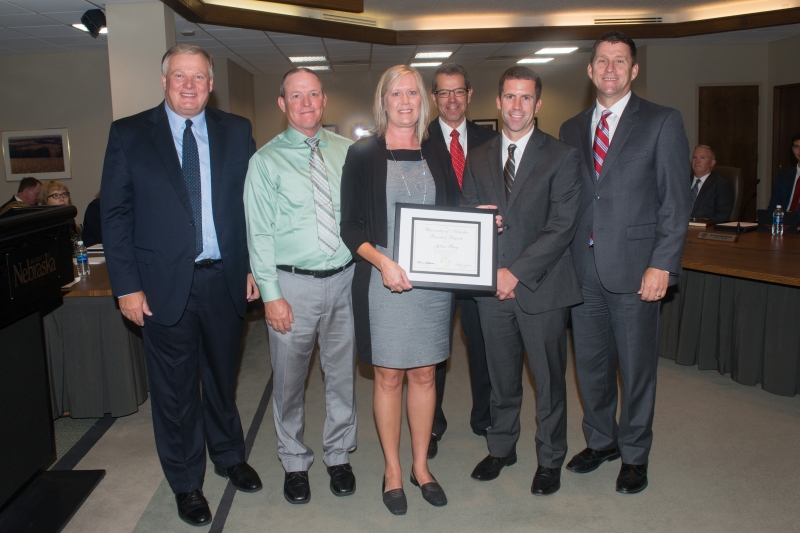 Among Jolene's notable accomplishments is her work as UNK's Student Financial Functional Lead in the 2008-10 PeopleSoft Implementation. This huge endeavor required weekly travel to Lincoln, significant over-time, and constant collaboration with peers and consultants. In May 2017 another major upgrade to the system required many more hours of review and testing while maintaining her regular workload. She has adapted to amazing technological changes in her 19 years at UNK.
Joining Jolene today is her husband, Ken Berg. It is a pleasure to recognize Jolene Berg for her commitment and achievement far beyond the ordinary.