The Board of Regents is pleased to present a KUDOS award to Jeff Kaipust, building manager for the Biomechanics Research Building at the University of Nebraska at Omaha. Jeff has worked at UNO for more than seven years, and was recently selected as the recipient of UNO's Employee of the Year award.
One of the first of its kind, the Biomechanics Research Building opened at UNO in 2013 to educate and develop a dynamic workforce, and enhance economic growth through the development of biotechnology and biomechanical intellectual property. Jeff played a key role in planning, designing, building, and dedicating the facility, which brings in millions of dollars of faculty and student grants to conduct research. The building was also key to securing the largest research grant in UNO history, $10 million from the National Institutes of Health to create the world's first Center for Research in Human Movement Variability.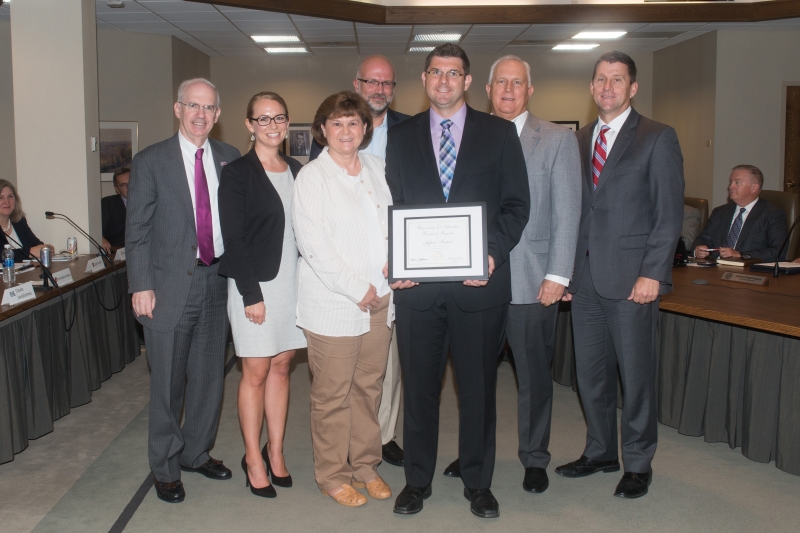 Chancellor Gold; Regent Lueck; Mary Kaipust, mother;Nicholas Stergiou, Assistant Dean in Biomechanics; Jeff Kaipust, recipient; Mark Kaipust, father; President Bounds.
Jeff was also indispensable during a 2013 voyage aboard the Thomas G. Thompson in Honolulu, Hawaii, to study the walking patterns of a crew at sea compared to when docked. Jeff's findings are helping discover if the way the sea crew adapted can translate to improve the gait of elderly individuals. His efforts correlate directly with UNO's metropolitan university mission and strategic goals to be engaged with the community and to strive for academic excellence while also being student-centered every day at the building.
"Jeff genuinely cares about each person who works in the Biomechanics Research Building and the guests who participate as subjects. He makes an effort to greet each person as they arrive and pass his office," said one of Jeff's colleagues.
Jeff's work ensures the Biomechanics Research Building at UNO continues to operate efficiently and maintains its commitment to research. Joining Jeff today are his parents, Mark and Mary Kaipust. Please join me in thanking Jeff for his commitment to UNO.