On behalf of the University of Nebraska Board of Regents, it is my pleasure to recognize Gina M. Garden, Marketing Coordinator at Kearney's and UNK's Museum of Nebraska Art.
"Gina is the epitome of efficiency, creativity, grace, and dedication," says Audrey Kauders, Director and Curator of the Museum. "MONA is fortunate to have counted her as a staff member for over a decade and a half." Her major responsibilities include designing all MONA publications and print materials; serving as the Museum's public face through print, broadcast, and social media; coordinating online presence via the Museum's website, Facebook, Twitter, Instagram, and the MONA app; maintaining a database of collection images; serving as staff liaison with the MONA Guild; and representing the Museum on community collaboration groups. In addition, she coordinates MONA's biennial fund-raiser, "Spirit: A Celebration of Art in the Heartland" – a very important, highly visible endeavor that has become known as one of the premier art events in the state. It typically features more than 150 artworks by 50-70 artists with Nebraska connections, and culminates with a gala dinner and art auction welcoming 450 guests from across the state.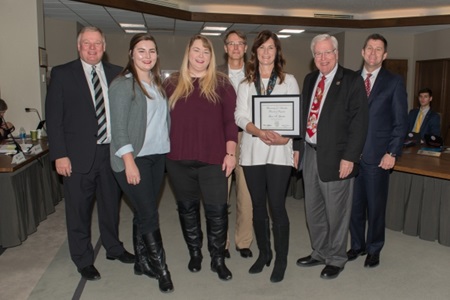 Self-effacing when it comes to her talents and skills, Gina is described as a "gem" who is equally well-respected and well-liked by her MONA colleagues, members of Museum's Board of Directors, volunteers, and the significant number of individuals with whom she interacts. "Through my 17 years here," she says, "many times I have heard 'I had no idea this was here'. I am honored to be part of the story behind the art of Nebraska and the history of MONA."
With Gina today is her husband Joe, and their daughters Emily and Abby, both of Lincoln. Our congratulations to Gina Garden. Her contributions to the Museum of Nebraska Art and to the University of Nebraska extend far above the ordinary.