On behalf of the Board of Regents, I'm pleased to present a KUDOS award to Gail Miller, executive assistant to the president in the University of Nebraska Central Administration office.
Most of us can only imagine how difficult it is to manage the schedule of a university president. Gail Miller has done it for three presidents – and if you ask her how she juggles the impossibly long lists of meetings, phone calls, constituent contacts and other requests of the president's time, she'll simply say with a smile, "It's quite a puzzle!" It is indeed – and Gail deserves credit for making sure all the pieces come together so that the president is where he needs to be, when he needs to be there.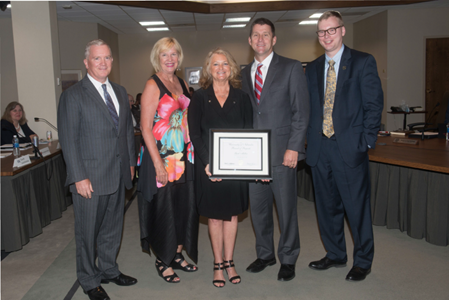 In 11 years of service to the university, Gail has earned a reputation for her professionalism, the positive way she interacts with colleagues and members of the public, her meticulous attention to detail, and her selflessness in volunteering her expertise for tasks and mentoring new staff members. Gail never lets a request to the president slip. She has a careful system for tracking and responding to requests that ensures constituents are heard. She has a deep understanding of the public nature of our roles and challenges colleagues to uphold high standards of decorum when representing the president and the university. And she exercises daily judgment in helping to maximize the president's time while also making sure – and I'll try to say this with a straight face – that his calendar doesn't become overbooked./p>
Gail will retire in September. We will miss her very much, but Gail has developed such a seamless relationship with her team that the transition won't be disruptive. She leaves us in good hands.
Please join me in thanking Gail Miller for her service to the president and University of Nebraska.