On behalf of the Board of Regents, I am pleased to present a KUDOS Award to Dylan Evans, Associate Director of Technical Services in UNK's Division of Information Technology Services.
Dylan is one of the special people on whom the rest of the campus heavily depends. His responsibilities include windows server and active directory administration – which, translated, means how users are able to log onto their machines, onto wireless service, and into Blackboard/ Canvas. He oversees ImageNow, network shares, email, listservs and integration between Active Directory and Office 365. He also provides end user support and is responsible for Helpdesk software, domain name servers, website server and database administration. "Dylan's dedication, commitment to excellence, and attention to detail are not only invaluable to technology support but also set an example for co-workers and everyone involved in his projects," says Deborah Schroeder, Assistant Vice President and CIO of Information Technology Services. "In addition to technical knowledge and skills, he communicates effectively with everyone and is often a go-to person for advice and solutions." To put it simply, what he does affects many, and all that he does, he does well.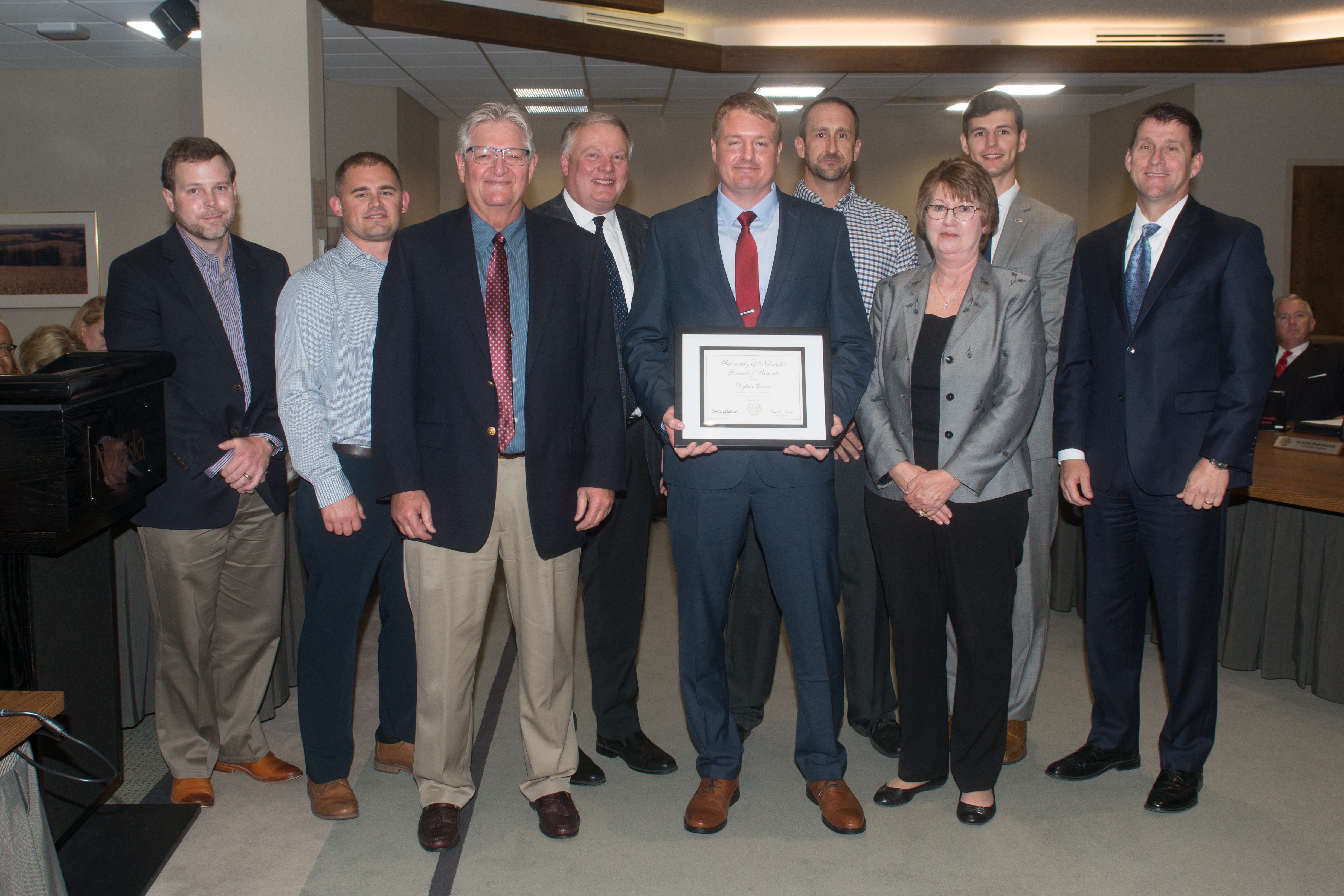 Beyond his considerable role in maintaining the campus's day-to-day functionality, Dylan's major accomplishments include the migration from Lotus Notes to Office 365, deploying ImageNow to UNK, and his 'Change Management' presentations to campus colleagues. He reflects simply, "Hopefully I have made UNK faculty, staff and students' use of technology easier." He most certainly has, for more than a decade now. In the University's new OneIT organization, he is a member of the Infra-structure Service Team serving as a Specialist for Office 365 and Email.
Dylan's guests today are his father Jef Evans, Technical Services Director and colleague Brandon Hammond, and Assistant Vice President Deb Schroeder. Congratulations, Dylan, on your talent, achievements, and for being a true UNK "Difference Maker."