The Board of Regents is pleased to present a KUDOS award to Bill O'Neill, director of the Department of Public Relations at UNMC.
The opening of the Fred & Pamela Buffett Cancer Center presented a challenge: not one grand opening, but a series of celebratory events. They ranged from the grand to the intimate; honoring multiple groups of stakeholders. Bill's team, including individuals from Nebraska Medicine and the University of Nebraska Foundation, pulled off these events; keeping them fresh, making each spectacular and ensuring each guest felt important. One nominator said this was "a huge task, where they had to repeat the wheel yet be different;" Bill did just that.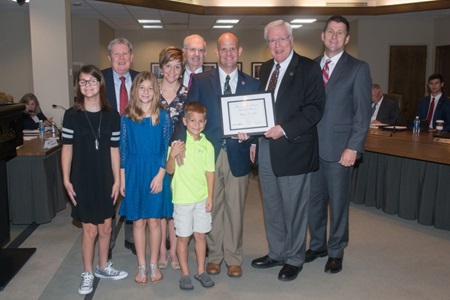 The diverse events team included dedicated volunteers who became experts as Bill empowered all to do their jobs, while personally sweating the smallest details in order to ensure each event ran smoothly.
When former Vice President Joe Biden became the grand opening's keynote speaker, Bill found himself huddling with the Secret Service!
These events were a rousing success. Chancellor Dr. Jeff Gold said that numerous guests expressed to him their astonishment at the tiniest of details. The tremendous publicity that the Cancer Center enjoyed throughout the opening events was another effort in which Bill had a hand.
Nominators noted how Bill was a tremendous example in handling stressful situations with steadiness and grace. He is the kind of leader who takes the blame and gives the credit. His supervisors and his staff stepped forward to insist that this time he be recognized for his efforts.
Today, Bill has with him his wife, Jen, and his children Camille, Olivia, and Jack. Please join me in thanking him for his dedication to the Fred & Pamela Buffett Cancer Center, and to UNMC.